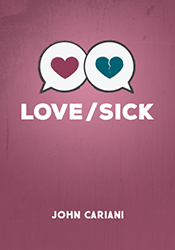 After the success of their Short Play Festival in June, the Drama Club are putting the finishing touches on their spring show, "Love/Sick." The show, written by John Cariani, is a series of nine short scenes showing couples at various stages of their relationship, from love at first sight to the stresses of parenting.
Although the show is ostensibly a romance, it's also full of surreal humor. In one scene, a character accidentally lets slip to her spouse that she had "sex for lunch" at a luncheon, and in another, a singing telegram man delivers a brutal break-up message to an eager woman. Equal parts wit and emotion, "Love/Sick" has something for everyone.
The production, directed by senior Stephanie Lynne and sophomore assistant director Drew Zombek, has been working for weeks to perfect the show before its debut on Friday, June 2nd at 7 P.M. in the auditorium. There will be a second show the next night, Saturday the 3rd, at the same time. 
The show runs for about an hour and a half, with each scene clocking in around ten minutes. There will be a fifteen minute intermission halfway through the show, where Rambunctious will be selling concessions.
The cast and crew are thrilled to be presenting the show. Senior Anka Chiorini, who acts in multiple scenes, said, "I really like the show because it's got some insanely funny moments and some really sad moments. You get the full range of emotions associated with being in love in each ten minute scene. It's a perfect combination of absurdity and realism, and I'm so excited for people to see it."
Senior stage manager, Morgan Moracco, believes anyone would enjoy the show, "If you like watching relationships fall apart you should definitely come check out 'Love/Sick'…if that's not really your thing, you should still come because it's quite funny."
Tickets for the show are currently on sale for just eight dollars, and will also be available at the door.