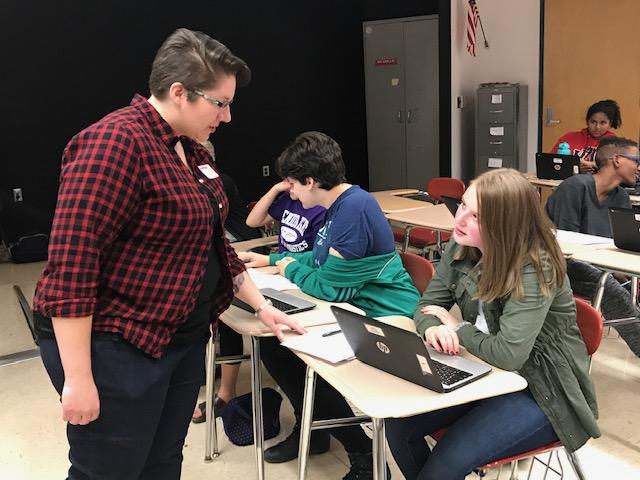 On October 11th, up and coming local author, Isabel Sterling, author of These Witches Don't Burn, visited J-DHS to talk about her writing career with students in Ms. Myers-Kelly's AP English Language and Composition class, to have a lunch discussion with the J-DHS Book Club, and to and lead workshops in point of view and voice with the creative writing class. Sterling, a LGBTQIA+ activist by day and avid writer by night, has written several books, though has only published the one, following the fascinating and imaginative story of modern-day witch, Hannah, as she teams up with her ex-girlfriend and fellow witch, Veronica, to save the secret of magic.

Sterling's Background
Sterling grew up in Central New York near Lake Ontario and often spent her summer days reading and floating in the bay, building imaginary fantasy worlds and their stories in her head, yet never writing them down. During the academic year, Sterling spent her days with her mom near Lake Cayuga, reading books inside and dreaming of writing songs for Disney. After high school, Sterling went into music composition as well as Higher Education Administration, eventually working in university student housing for six years. She didn't start writing until graduate school, when she needed a new creative outlet after leaving music behind, and in 2012, she participated in her first NaNoWriMo (National Novel Writing Month), which ended up producing her very first book. Since then, she went on to write four additional books, before penning These Witches Don't Burn.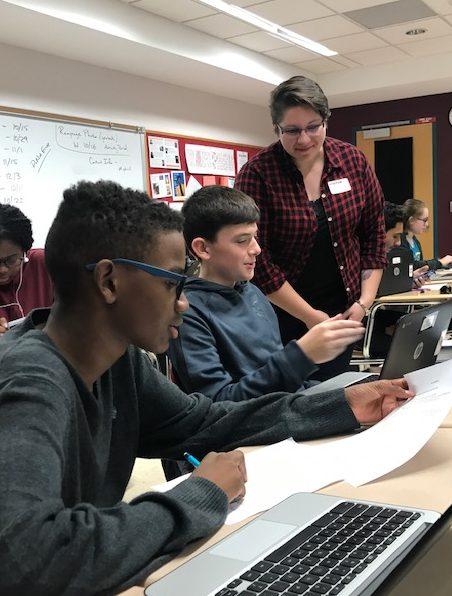 Past Novels & Lessons Learned
Sterling, as previously mentioned, is no stranger to writing novels—she'd written many before, including rewriting or botching ideas completely when the publishing agencies she'd gone to rejected her book proposal. "I've probably gotten, at this point in my career, three hundred rejection letters… and [if you're going to be an author] the rejection never ends," Sterling said. In an interview with Brock Shelley, creator of the podcast What Got You Hooked, Sterling went on to explain that the best thing you can do for yourself as an author is have patience and "give yourself time to write the things you love." In her very first novel, she tried to do too many things at once—throw too many things into one book, include too many elements, too many moving parts—and it ended up not being what she hoped. Still, she said that it gave her confidence, and two books and a lot of patience later, she had the first draft of These Witches Don't Burn. Sterling said it best herself: "there's no race to becoming a published author… take your time."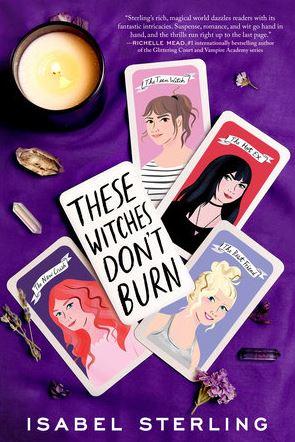 Writing & Publishing These Witches Don't Burn

Sterling wrote the first draft in only a couple of months in 2015, while also going with her wife to visit Salem, the infamous site of the Salem Witch Trials and where the story takes place, for research purposes. A year later, in 2016, Sterling re-wrote the entire first draft of These Witches Don't Burn in order to improve the plot and book in general. Next, the book went on submission, but in 2017, Sterling's agent went into a different career, so Sterling continued to push alone through the publishing process, until she finally found another agent and debuted her book during the summer of 2017, with a total of about seven years worth of work from first writing it to having a published copy.
However, Sterling did have to go through a massive learning curve in order to create the book we see today. Whilst writing These Witches Don't Burn, Sterling came to realize that compared to others in her field, she was rather inexperienced, so she joined a local writing group and met with critique partners, coming across them by researching revision techniques on Google. This gave her a solid foundation for characterization, plot, and groundwork of a novel, which allows us to read her book today.

For More About Isabel Sterling
To get more information about local author Isabel Sterling, check out her website www.isabelsterling.com, and stay tuned for the sequel to These Witches Don't Burn coming out in 2020!