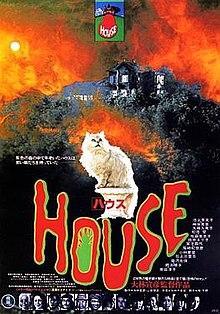 October 30, 2018
Samuel Phillips
Contributing Writer
1977 was a great year for art-house horror, best remembered for David Lynch's debut feature, Eraserhead, a surrealist black and white trip into the distorted mind of one of the great American directors. However, two lesser-known international directors released equally groundbreaking work in 1977 as well. These are the zany Japanese horror comedy, Hausu (House), and the dark, twisted Italian cult film, Suspiria.
---
Hausu (1977)
Directed by: Nobuhiko Obayashi
Japanese Comedy/Horror
Available on Blu-ray and DVD
"Ah, bananas! Bananas everywhere!"
It is hard to describe this eccentric Japanese horror staple to those uninitiated to Japanese art and culture. Obayashi's wacky, stylistic choices with editing and cinematography make the viewer say, "What am I watching?" The story is handled in a cynical, almost childlike manner that contrasts shockingly against scenes of dismemberment and trauma. Hausu includes many common themes from Japanese anime and manga such as schoolgirl fantasies, screwball humor, and unexpected shifts in tone and mood. But that is not to say the film is unenjoyable for American audiences. In fact, this campy cult classic is one of the great horror comedies, not only in Japan, but worldwide.
When Gorgeous (Kimiko Ikegami) leaves school for summer vacation, all she can think about is how excited she is to go on vacation with her father, who has recently returned home from Italy. But when her father brings home his new fiancee, Gorgeous feels betrayed and decides to visit her aunt in the countryside with her six friends. While her aunt's country house seems idyllic in nature, something more sinister lurks in the walls.
Obayashi proves himself as one of Japan's finest directors with Hausu, experimenting with a variety of cinematic techniques that are usually considered gimmicky, like stop-motion action sequences and hand-drawn animation. These special effects fit in so seamlessly because the film embraces its own cheesiness. In fact, it goes out of its way to add gags that do not even fit into the story. At the same time, however, the story is layered with dark metaphors, like the bombing of Hiroshima and Nagasaki, as well as messages about stereotypes and love. In Hausu, director Obayashi performs a delicate balancing act between beauty, humor, and grief that adds unexpected sophistication to an otherwise simplistic horror plot.
Hausu is full of memorable moments that make it highly rewatchable. On my third viewing, I found myself still giggling like a little kid. One moment involves a character turning into a pile of bananas. In another, Kung Fu, one of Gorgeous's friends (yes, those are actually the character names) gets into a fight with flying, flaming logs. And another scene involves a watermelon and a well which you have to see to believe. The soundtrack by Japanese pop band Godiego complements the frantic pacing of the film's outlandish moments perfectly, with smooth jazz, upbeat pop, and a simplistic piano motif used over and over, but never in the same way. All of these elements elevate Hausu over the average horror comedy.
Yes, this film is dated, with special effects that come across as so fake you can not help but laugh, and yes, this film has many familiar horror tropes, like the damsel in distress and the haunted house. By no means is Hausu a perfect film. But as a fun experience, it is a fantastic choice for the Halloween season and an essential watch for horror fans.
---
Suspiria (1977)
Directed by: Dario Argento
Italian Slasher
Available on Blu-ray, DVD, and on Tubi (streaming with ads)
"Suzy, do you know anything about…witches?"
Known for its brutal, dreamlike violence and varied color palette, Suspiria throws its viewer into the action and never lets up. Unlike generic horror action, Suspiria is thoughtfully composed and planned to build up extreme amounts of tension before releasing. In the opening scene to the film, shots from within the woods suggest a dark presence. Red lights reflecting off of falling rain look like dancing sprays of blood. This attention to detail is what makes Suspiria an cinematic achievement in the horror genre.
Dario Argento crafts and paces his film to match its dark story. Suzy Bannion (Jessica Harper) is a new arrival at a prestigious ballet academy when a series of murders occur at the school. Suzy, seeing that no action has been taken, decides to unravel the mysteries of the academy for herself. Argento takes his time telling Suzy's story, taking notice in the little details as he experiments with a variety of film techniques. The most noticeable of all is the attention to color. Shot completely on Technicolor, the film's colors are vibrant. Sharp pinks and reds fill the dance studio, and when night falls, the hallways of the school become rich greens and deep blacks. The deeply saturated color adds a dreaminess to an otherwise dark, brutal film.
The violence of Suspiria is brutal and intense, but it never becomes excessive. Characters die in a variety of creative ways, but deaths come sparingly, after long stretches of tension-building narrative. Argento's film provides an onslaught of tension that many horror films struggle to incorporate. The deaths are bloody and fun, but never once do they feel inappropriate or gratuitous.
Thanks to the Italian progressive rock band Goblin's haunting theme, Suspiria in many ways feels like a dance. Guttural singing overlays a light synth which, in turn, overlays the twists and turns the story has to offer. Coupled with the visual delights, Goblin's soundtrack helps make this slow-paced film accessible to today's young viewers.
Overall, Dario Argento pulled out all the stops with this horror classic. It is fun, intense, tension-wrought cinema at its finest, a textbook example of solid horror. With the recent release of its American remake, now is a perfect time to watch this gem.