By Chris Wood
Editor-in-chief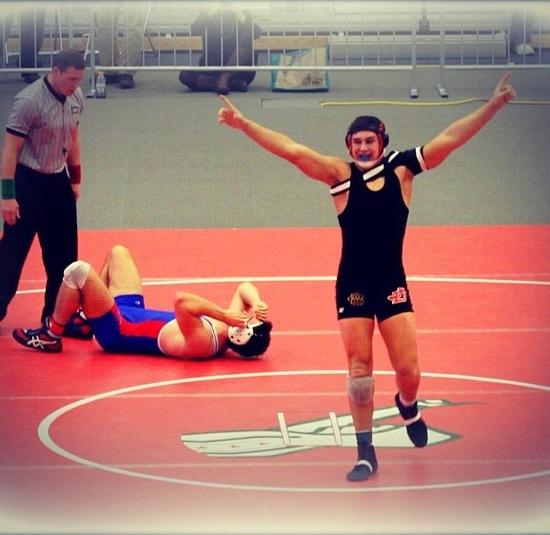 On Saturday, Feb. 9, Jamesville-DeWitt High School made it a weekend to never forget by exerting its dominance in sports. The 10-8 Varsity Boys Basketball team stunned Christian Brothers Academy with a last second buzzer beater by junior guard and captain, Jafar Kinsey, to win the game. Meanwhile, junior and captain of the J-D/ CBA/ Solvay/ Westhill Varsity Wrestling team Ben Honis won the Section III Division I championship in the 195 pound weight class despite a fractured growth plate in his shoulder.
After the J-D's Boys Basketball won handily against CBA by a score of 64-39 in their first meeting of the season, J-DHS took on CBA again at CBA. J-D was trailing all game by a few points until the last few minutes of the game. Senior forward and captain Jeff Edwards was determined to win. "I looked up and saw that we were down eight, I knew it wasn't going to end like that because we had won by 35 last time," said Edwards. "I was just thinking: stay calm, keep your composure because you never know what will happen," said Kinsey. Junior forward James Jones was as determined as Edwards and was, "focused and I kept thinking: finish."
With around one minute left, Edwards had a crucial basket to go ahead by two points followed by CBA tying the game with around 20 seconds left. Coach Bob McKenney then called a timeout to settle the team. "He drew up a play for me to get a ball screen and get a shot off of that," said Kinsey. Jones added that if Kinsey didn't have an open look, he was supposed to pass the ball out to Baker or sophomore forward Dom Deregis for a shot. Baker noted how Coach McKenney told them to, "stay disciplined."
Sophomore guard Evan Dourdas said, "I felt confident that Jafar would make the shot." Jones agreed with Dourdas because, "I was 100 percent confident because we trust him as one of our best players and he takes those shots in practice all the time and makes them." Edwards noted how even though Kinsey was struggling at the free-throw line, Kinsey remained calm because he had made that shot numerous times.
After the ball was inbounded to Kinsey, he paused for a few seconds, brought it to the right wing. Then, he crossed back over to right in front of the three-point line and pulled up for a shot. The ball hit the front and rolled in as time expired. "The touch I had (on the shot), it felt right," said Kinsey. The J-D student section exploded and then stormed the court and dogpiled the members of the team.
Senior Ryan Wright was one of the first students to storm the court. "It was unreal, that shot was huge and to do it on their senior night was great," said Wright. Senior Max Mastine agreed because it was good to back up their chants and trash talk with a win. Senior Emily Aziz said that, "It was really fun and a perfect way to end my last J-D/ CBA game, but it was chaotic." Aziz went on to say that because CBA was up all game made the fact that they won even more special.
Senior Lucas Johnson said that it was, "sick! We always try to storm the field (in football) and court, but the staff never lets us so it was spontaneous and more glorious." Sophomore Rachel Redmore also stormed the court. "It was exciting and cool because the game was really close," said Redmore. Senior Scott Firman normally wouldn't storm the court, but he had a very specific reason as to why he did for this game. "My parents weren't there so I did it," said Firman.
Junior Maki Mandelis said that he was in a, "euphoric state." "We always beat CBA, but we were down all game, then Jafar (Kinsey) hit the buzzer beater so it was the perfect way win," said Mandelis. Freshman Grayson Burns described storming the court as, "a blur. Once the ball went in the hoop we just started running. It was awesome to go in there and beat them."
When asked about storming the court in his perspective, Kinsey said, "At first it was great, but then it started to hurt; but it was a great memory." "It was a great feeling, you can't explain it unless you're playing," said Baker. Jones was proud of the performance by the team because they knew it was going to be a tough game and finishing it out felt great.
While the basketball team was pulling out a victory against CBA, Honis was unsure whether or not he was going to be able to compete for the Sectional championship after coming in second place last year. During his semi-final match, Honis injured his shoulder with around 15 seconds left in the second period. He took a shot (when both players are standing and one goes for the legs) and got jammed up by the other wrestler. The other player kicked down and then Honis said he felt four cracks and rolled over in pain. After the injury time-out, Honis was able to stall because he already had a five-point lead on his opponent. He then moved onto the finals and had a three hour wait.
"Between the semis and finals I went to the the doctors and they told me I fractured my growth plate in my shoulder. But, they wrapped me up and then I took some painkillers and then went back to OCC (Onondaga Community College, where the championships were being held)," said Honis.
When Coach Joseph Moran saw the injury he saw the injury, he thought that Honis' season was over. "He was screaming louder than other wrestler I've ever heard," said Coach Moran. Coach Moran described Honis' return to the match as, "scenic. I was feeling really anxious, the finals were in 30 minutes and he wasn't here and we didn't know anything about the injury. And then minutes before the match he comes through the back door, it was like something out of a movie."
Honis came back, but was unable to shoot because of his injury. "I managed to reverse him and then i caught him in a cradle and then pinned him," said Honis.
"A heroic performance," said Coach Moran. "I wasn't the coach last year, but I knew his ultimate goal was to be a sectional champ. It was very emotional for me (when Honis won) because I know how much time he has put in, not even compared to other wrestlers in the state," said Coach Moran.
The Boys Basketball team now is entering sectionals as the seventh seed and will take on the Mexico Tigers tonight, Feb. 15 at six p.m. at home and Honis is scheduled to wrestle Feb. 23.