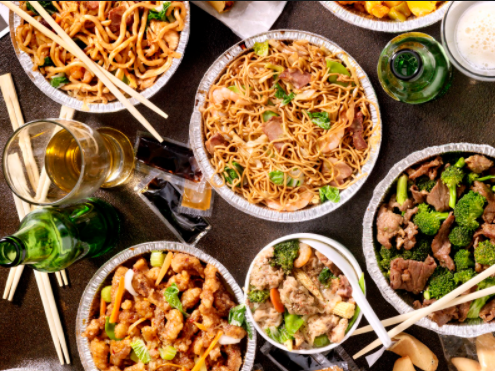 For many Jewish families, the Christmas festivities can sometimes feel like something they just aren't a part of. But recently, Jewish families have begun making their own Christmas traditions. While they may not celebrate the holiday, they have started a trend: Chinese food on Christmas Eve.
Jewish people celebrate Chanukah just around the time of Christmas each year. Chanukah, or the Festival of Lights, is an eight day and night celebration of the fight against the Syrian oppressors in Jerusalem in the 100s B.C.E. Traditions involve lighting the Menorah, eating traditional food like potato latkes, playing dreidel, and giving presents to the family. Many compare Chanukah to Christmas as they are both present-giving holidays that occur around the same time. While most Jewish people are perfectly content to celebrate Chanukah instead of Christmas, some are making the most of the historically Christian holiday.
J-D sophomore Nathan Warren-Faricy and his family have partaken in this new tradition for several Christmas Eve dinners over the years. He said, "Well, the Chinese restaurants are the only ones open, so you kinda can't go anywhere else." As many Chinese people practice Buddhism, they often choose to leave their restaurants open on Christmas Eve and Christmas Day.
The tradition of Chinese food on Christmas Eve dates back to the late 1800s when mass immigration to the United States, and especially New York City, was taking place. At the time, the emerging Jewish area of New York was right next to the emerging Chinatown in the Lower East Side of Manhattan. Many restaurants only tended to serve people of their same background, but the Chinese welcomed people of all ethnicities into their restaurants. As a result, culture was exchanged between the groups. Many Jews were drawn to the flavors of Chinese cooking, as it compared to the Eastern European cuisine they grew up with. Many Jewish people were raised with foods that combined sweet and sour elements as well as egg and noodle-based dishes, like those of the Chinese. Additionally, Chinese food is well-suited to keeping Kosher because it rarely uses milk products. New York Jewish people also found Chinese food to be sophisticated and exotic. Some Jewish people were deeply rooted in tradition up until then, so they used Chinese food to broaden their horizons.
In 1959, the first Kosher Chinese restaurant was opened in New York. It was called Bernstein-on-Essex and it blended Chinese and Korean flavors, while abiding by the Jewish Kosher eating rules. And the rest, as they say, is history. The Jewish people of the Lower East Side loved the restaurant, and today, many Jews use Christmas Eve as a time to connect with family and friends, gathered around a table piled high with chow mein and dumplings.