By Ryan Pike
Managing Editor for Writing and Reporting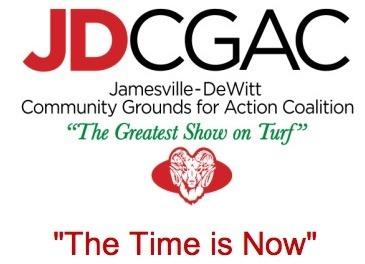 The Jamesville-DeWitt Community Grounds for Action Committee, in an effort to provide the J-D community with a new turf field and track, has been fundraising since last November. On Nov. 1, a fundraising deadline for the $1.6 million project quietly came and went. The JDCGAC has raised just about $1 million to date. However, there is still hope that the project will succeed.
The new plan for the field involves significant collaborations between the JDCGAC and the J-D Board of Education. On Nov. 18, the two entities held a meeting in an effort to cancel the resolution that carried the Nov. 1 deadline. The groups are crafting a new resolution, which will have fewer stipulations and fewer deadlines, according to JDCGAC board member Amy Burns. "It's gonna be so much easier," Burns said.
Contrary to social media announcements and a banner on the current J-DHS stadium bleachers that implied the Nov. 1 deadline was a "do or die" ordeal, Burns said that the project will continue into the next calendar year. The new goal is to break ground on the stadium after the final Varsity Boys Lacrosse home game, expected to be sometime in late April or early May of 2014, in order to not interfere with any sports seasons. Burns said that by breaking ground in April, the field and track should both be completed in time for the first Varsity Football game of the 2014-15 school year.
While the original fundraising goal was $1.6 million, there is currently no hard number for the project. In about two weeks, the project will go to bid between several contracting companies, after which the JDCGAC will know precisely how much money they will need to raise. Some costs have already been alleviated thanks to pledged donations of materials like lighting and asphalt for the track.
Fundraising efforts will continue as they did in the 2012-13 school year. Burns said that the JDGAC plans to continue the three events they began last year: the dodgeball tournament, the Winter Jam and the Red Ram Run. "We want to keep doing that no matter what happens, because we know somehow the community will raise the money," Burns said; "[Support] is bigger and stronger than ever."
Additionally, the JDCGAC recently announced that their donor recognition wall, originally titled the "Red Ram Donor Wall," will now be known as the "Rob Edson Wall of Giving." Edson was a J-D parent and active community member who died of an apparent heart attack in September. His son, Thomas, is a freshman at J-DHS. Thus far, the largest individual donation pledged has been $60,000, according to Burns. That puts the donor into the "Ram" tier, the third-highest recognition possible.