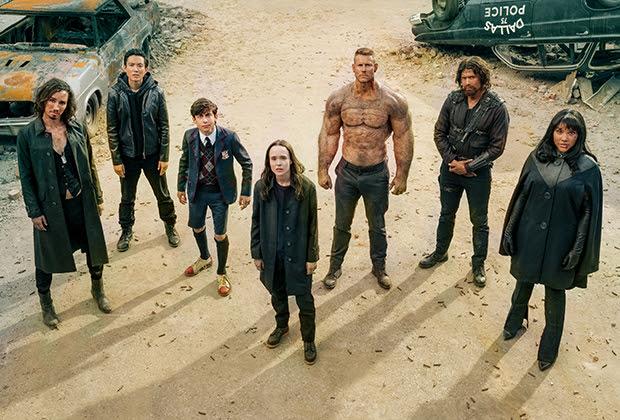 Contributing Writer Shiela Phoha, '22
The adaptation of the comic book series, "The Umbrella Academy," was turned into a Netflix show in 2017, after much debate about if it should be a movie or a series. It premiered on Netflix on February 15, 2019 and has been very popular among Netflix users. It was reported that 45 million households watched the first season within the first month of being released. During that same month the creators decided to renew the show for a second season, and now, even a third. 
The Umbrella Academy is based off the comic book series created by Gerard Way. It is set in present time, taking place in (so far) two locations and follows a group of siblings, the "main" ones being Five and Vanya. On October 1, 1989, forty-three women around the world gave birth at the same time, without being pregnant the day before. Billionaire Reginald Hargreeves becomes interested in these babies because of their unique births that gave them super powers. Hargreeves attempts to buy the women's children to study them but only gets seven of them. He unites them together to create the Umbrella Academy, where he trains them to use their super powers for good and to protect the people. 
In the show, the siblings, now all grown up, come back together from their separate paths in life because of the death of their father. One of the siblings, Five, comes back from the future to warn them of a "doomsday," and the rest of season one follows the siblings uncovering their family secrets while trying to stop doomsday and evading two assassins. 
In my opinion, this is one of the best series Netflix has produced. It definitely sits among the top 5 of my "Favorite TV Shows of All Time" list. "The Umbrella Academy" has extremely good writing with the ability to make me laugh out loud, something very few shows can do without being extremely cringeworthy. While being very comical, this show is a tear-jerker – a telltale sign of great writing. This show also does an extremely great job on representation, by including LGBTQ+ characters, showing the hardships of being African-American (both happening in the second season) as well as the difficulty of overcoming addiction. In addition, the main role played by Elliot Page (Vanya) is transgender, furthering the show's intent on inclusivity.
Although I can say the plot was kind of hard to follow in the beginning, at the end all the strings are tied leaving you in an "Aha!" moment. "The Umbrella Academy" is truly an amazing show that'll keep you up until 3:00 a.m. finishing "just one more episode." If you're looking for an action-packed, humorous, sci-fi type show, this was made exactly for you.