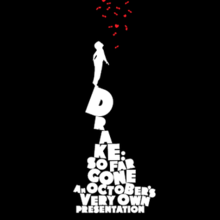 So Far Gone by Drake

Analysis by Luke Hobika, '20
So Far Gone by
Drake
Analysis by
Luke Hobika, '20
Best tracks: "Houstatlantavegas;" "Ignant S**t;" "The Calm;"
Worst tracks: "Unstoppable;" "November 18th"' for its mixing job;  "Uptown;" "Sooner Than Later" (this song is trapped in 2009) "Congratulations"
---
An avalanche starts with one snowflake; A dust storm begins with a lone grain of dirt; A wildfire is initiated by a spontaneous spark; A music career launches off with a single song.
In the current day, people (music listeners or not) have some knowledge of who rap musical artist Drake is unless they have been living under a rock for the last decade. Since Drake's release of his 2009 debut mixtape, So Far Gone, the musician has garnered numerous top-10 hits, a respectable amount of chart-topping albums, as well as a universal fanbase. More recently, Drake has fallen a victim of the prevalent "streaming wars" between dominant music streaming services (Spotify, Apple Music, SoundCloud, Tidal, YouTube, etc.). In consequence, a number of projects belonging to Drake's catalog have been excluded from these sources. Until a decade after its release, So Far Gone constituted a part of the list of albums absent from streaming services. Initially, the mixtape was only made available by monetary purchase on online services or physical copies that only offered seven out of the seventeen tracks. On February 15th, 2018, So Far Gone in its entirety, including one boastful bonus track ("Congratulations"), appeared on all of the streaming services. The re-release of So Far Gone provided fanatics of Drake and curious listeners to indulge in his music. It also highlights the development of Drake throughout his career from a microscopic snowflake into a massive snowball.
In a sense, So Far Gone is an artistic experiment in the form of a mixtape. Instead of sticking to a particular theme or sound throughout the album, Drake offers tones and lyrics ranging in moods. At one end of the spectrum, Drake takes advantage of extravagant production on particular tracks in order to crow about the feats he had achieved at that point. "Uptown" is a track that is backed by a southern-infused trap beat which supports Drake's messages revolving around his adjustment to his new life of glamour. Drake's confidence is further established on "Ignant S**t" with its slick flows and its instrumental sample of Jay-Z's mafioso "Ignorant S**t." In other instances, Drake's attitude reflects the feelings of lust and doubt, moods that the artist has grown notable for voicing. These tracks, in particular, established Drake as a prominent figure in the industry because no other artist at the time (other than Kanye West on his solemn 808s & Heartbreak) had openly admitted their own feelings of vulnerability. Now in 2019, the music market is crowded with openly adoring artists (The Weeknd, PND, Post Malone, Bryson Tiller, etc.). "Brand New," "A Night Off," and "Houstatlantavegas" are just a sample of tracks that demonstrate the struggling notion of love spoken by Drake's rounded, echoing vocals. Additionally, hollow percussion hits surrounded by atmospheric instrumentals hold up such songs of passion. When Drake is not questioning the quality of the level of affection in his life, he is in uncertainty about the sacrifices that have occurred as a result of fame. The structuring of songs like "The Calm" and "Successful" follow the same formula as the affectionate tracks, but the subject matter of affinity existing within the lyrics are replaced with mellow and introspective words. Besides the songs filled with either theme of intimacy or swagger, the remaining tracks act as a precursor to the sounds Drake would consider further on in his career. For instance, the dancehall rhythm of "Let's Call It Off" resembles the tone of a song that could be found off of his 2016 More Life compilation. The same can be said with the Caribbean-based air given off on "Little Bit" in comparison to Drake's 2016 dancehall-inspired album, Views. As innovative as this mixtape comes off on paper, its execution ultimately disrupts its entire quality.
Love, being the primary topic of focus on So Far Gone, entails devoting part of your life to a significant other whom you will share moments of enjoyment, insights, and even misery. While humor can be part of that list, its synonym, humiliation, is not a trait that would be considered beneficially associated with the experience of loving someone. Unfortunately, Drake enforces exactly that on So Far Gone. He makes a complete fool out of himself by voicing corny punchlines on a track at unnecessary times, including mundane guest verses phoned-in by acclaimed artists, and presenting a haphazard mixing job. Whether its "Rest in peace to Heath Ledger, but I'm no joker" forcefully lodged within "Ignorant S**t," "This lost boy got fly without Peter Pan/And my delivery just got me buzzin' like the pizza man" popping up out of nowhere on the so-called contemplative "Successful," or "She call me the referee 'cause I be so official" thrown into on the generic top-10 hit "Best I Ever Had," the wincing lyrics of this mixtape diminishes Drake's overall intent of the project. Now Drake is not the only one to blame for the disgraceful quality of the majority of verses. The featuring artists who make an appearance on So Far Gone deliver substandard lines. Esteemed hip hop artist Bun-B effortlessly hands in his dull portion on "Uptown," similar to how Lil Wayne overstays his welcome on a countless amount of songs on the mixtape. To make matters even worse, the polishing job of the project as a whole is substandard when considering the magnitude of outlets Drake had at the time. On several occasions, Drake belts out choppy autotuned hymns in an attempt to support his somber messages. Moreover, the differing levels of bass and treble across instrumentals are painfully obvious. As a whole, So Far Gone resembles the act of gathering diverse and plausible ideas, impishly throwing them at a wall, and hoping that they neatly position themselves, let alone stick.
In nature, wildfires have the capacity to produce cataclysmic results in their affected environments. As disastrous as this sounds, the ashes of the smoldered trees and grasses offer fertile territory for the succeeding vegetation. An area of land that at one time supported only a handful of plants is not qualified to sustain a collection of greenery. In a similar sense, as atrocious as some of the material on So Far Gone in context of its 2009 release was, its underlying subject of helplessness with love eventually paved the way for future musicians to freely express their intrinsic beliefs themselves.
But that's just my opinion.