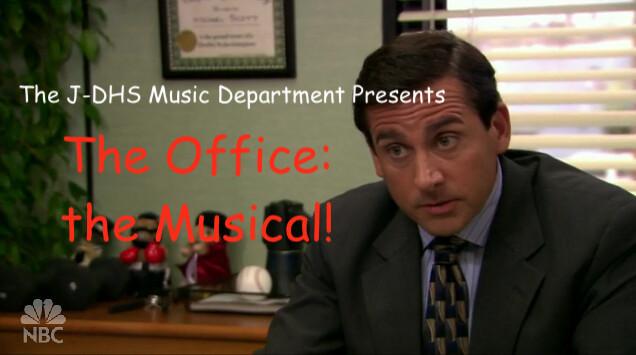 Back in February, students had been anticipating the announcement of what show would be performed for the high school musical. Predictions flew wild with some seemingly good guesses becoming popular, like "Legally Blonde," "Legally Ginger," and "Legally Lemon." But the oddest prediction of all was "The Office." When the directors finally announced during February break that the show would be "High School Musical 2: The Prequel: The Sequel: Sing Along Edition: Remastered in 4K (includes games and behind-the-scenes on the DVD)," there was an uproar, especially from those who became married to the idea of performing "The Office."
A statement from the directors reveals that the biggest problem with this argument is that there is no "The Office: the Musical." And trust me, they searched for it. Upon arriving at the office (no pun intended) by the stage, I found a bulletin board set up like a crime scene investigation trying to find anything "The Office" related, even trying to find scrapped ideas and decade-old workshops. They did find a small Off-Broadway production, but they were sued for "misappropriating and misinterpreting the serious tone of the drama… making a mockery of a tragic story" (parody law isn't real if you're popular and rich enough). A suburban high school musical theatre department doesn't even have enough money to be sued for!
Speaking to individuals who were disappointed with this choice against the quirky comedy, we found that most students did not even have other shows on their radar. For most, "The Office" is the only piece of media they have ever consumed or even heard of. Their favorite book, "The Office"; their favorite album, "The Office"; their favorite Super Bowl commercial, the M&M's one closely followed by "The Office." This discovery must be explored more. A generation of media illiterate kids who will never experience the joy of fresh ink on a page! How sad, I guess. I'm not much of a reader either, but it makes me sound smart to say that.
Even now that we're months into rehearsing and filming the big movie musical, protests have still been going strong. A demonstration group screaming, "WE WANT JOHN KRASINSKI!" interrupted the cast's big first filming day for the infamous scene "Bet On It That We're All in This Together Because You are the Music in Me Everyday and It's All for One and One for All if We Can Work This Out and Stick to the Status Quo But I Still Have To Go My Own Way Even If We're Soaring and Flying (Fabulous Edition)," leaving cast members in tears and shambles. How they will be able to continue is still shrouded in mystery.