Ella Drotar is a sophomore at J-DHS, but she is also a very talented singer and songwriter who was asked to participate in the Syracuse Acoustic Guitar Project this past October.
Drotar has been surrounded by music her whole life. She began playing piano at a young age and also began playing the flute in elementary school. She started taking guitar lessons at 11 and wrote her first song at 12 and songwriting has been an important piece of her life ever since.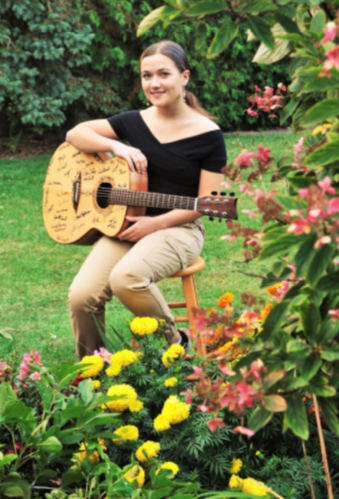 Jeffrey Pepper Rodgers started The Acoustic Guitar Project in Syracuse in 2014. The project's mission is to inspire creativity by simplifying the songwriting process to develop a deeper connection between the artist and their product to tell meaningful stories. When Drotar was asked to be a part of this project, she had exactly one week to write and record a song on the iconic acoustic guitar that then gets passed down to the next artist in the project.
According to Drotar, "The Acoustic Guitar Project is an international project with Syracuse being one of the locations. Once a year, a handful of musicians are asked to be a part of it for each location." Everybody who participates in the project signs the guitar at the end of the week, so once you are given the guitar you get to see everyone who has participated before you. Drotar said that she was honored as well as intimidated by the offer to be involved with such a huge task. It means a lot to see her name on the guitar, and she was able to meet lots of new people throughout the experience.
Local Syracuse musician Jess Novak recommended Drotar to Rodgers when he was in search of younger artists to be a part of this year's selection. When Drotar was chosen, she knew it was going to be a challenge, but she was up for it. Drotar said that "a difficult part was knowing I only had a week to write a full song. It usually takes me much longer to complete one but it pushed me to test my abilities and I was happy with the outcome."
By the end of the week, Drotar had her final product, a song titled "Divide." Drotar appeared on Channel 9's Bridge Street on November 19th where she said that her main focus when writing the song was seeing how divided the world is and knowing that better days are ahead. In lyrics such as "we need to learn how to fight with love" and "let us unite and open our eyes" the message of conquering hate and fighting in the world remains true. Drotar said that her favorite part was ending up with a song that she will be able to play at gigs when the world is back to normal. The song is like a time capsule that serves as an anthem to what this year has been like for so many people. Drotar also said that it was awesome to have SubCat record the live stream and dedicate their time towards her song.
Despite a time crunch of only 7 days to record a full song, Ella Drotar was able to spread positivity with her uplifting and hopeful song "Divide" through the Acoustic Guitar Project.
Listen to "Divide" here! "Divide" by Ella Drotar