"I just wanna become the best version of myself."

This is the mantra that Kaleel Boykins, a senior at Jamesville-DeWitt, chooses to live by. Boykins has taken a liking to the phrase that his cross country and track coach Emily Rowles says during almost every practice or race. It perfectly explains what he wants to get out of his race, and more importantly, out of his life.

Coach Rowles came up with the phrase "be the best version of yourself" to encourage athletes on her teams. The short phrase embodies the idea that the most important thing at any given time is to be trying to succeed. Even if someone isn't having the best race, Rowles wants to emphasize that they can still give one hundred percent of their effort.

Boykins joined the cross country team as a freshman and enjoyed immediate success, earning a spot on J-D's Sectional team. Track season was a similar story, where he ran in numerous relays and set a personal record in the 800 meter event.

His teammates were impressed with how good he was with such little experience. Fellow senior and friend Ahviere Reese looks back on Boykins' early success with amazement. "I've always thought that he would be a big-time runner, just because he's so physically built. He had some kind of motivation in him to keep running and trying his hardest."

Boykins continued to impress the following year, where he got his 5k time down to 17:05, one of the program's best performances over the past decade. In outdoor track, he set personal bests in both the 3200 meter race and the 1600 race at the sectional meet.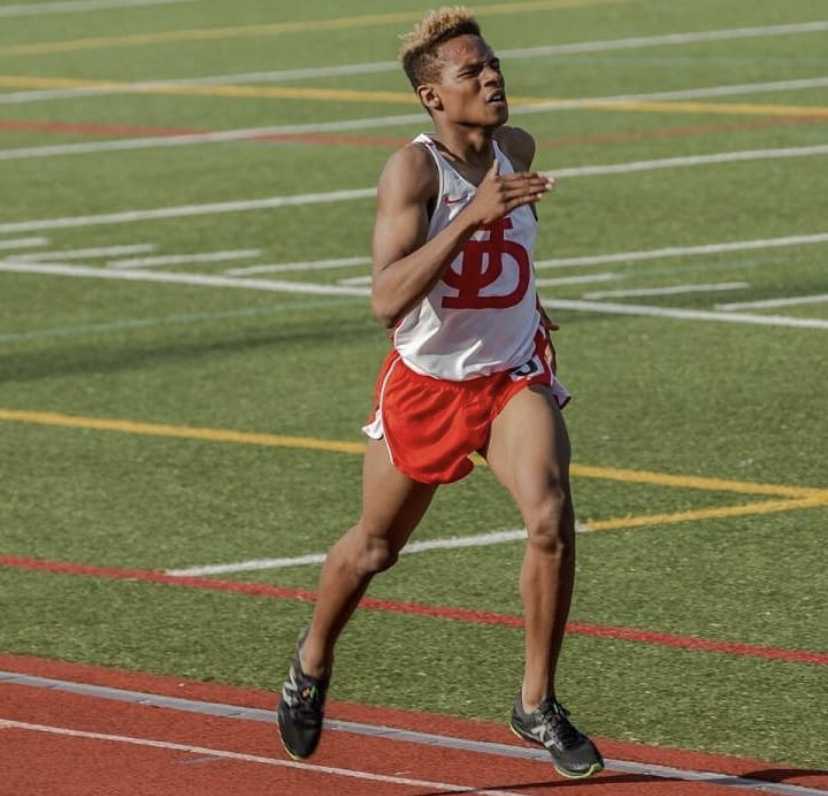 Things were going well for Boykins. He had already had college coaches come up to him after some of his better races, asking what grade he was in and if he planned on running in college. They were disappointed when they heard that he was only a sophomore, which meant he wasn't old enough to be recruited yet.

Going into his junior cross country season, he was confident and ready to put in the work to do better than ever before. The Red Rams were in a good position to make a run at a sectional title, with Boykins helping to lead the way.

The season started well enough. His times were similar to the year before, and the team was off to an undefeated start. About halfway through the season is where things went off course.

"I'd been feeling pains in my back," said Boykins. "I started to fatigue a lot in races, and I started to notice my performances getting worse."

The three-sport athlete was diagnosed with spondylolisthesis, which is a traumatic slippage in the lower back. He got the injury from swimming, which he competed in during the previous two winters.

Despite the injury, he fought through and raced the rest of the cross country season. His performance fluctuated, but Jamesville-DeWitt was still able to win the Section 3 Championship. He was even able to run at the New York State Championship meet, but not without a fair amount of pain.

In indoor track, Boykins was surprisingly fast considering the shape his back was in. He finished the 1600 meter event faster than he ever had with a spectacular time of 4:39. Although he qualified to race at sectionals in the 4×800 and the 1600, his times were starting to slow down a bit.

By the time outdoor track rolled around, the pain was simply too much. Racing just wasn't worth future injury.

The summer before senior year, doctors told Boykins that his spondylolisthesis had gone away. However, his lower back continued to throb. He cross-trained throughout the summer, and even ran on occasion, but things were still bad enough for him to have to wear a back brace..

The season began in mid-August, and the rising senior was optimistic. But when it came time for speed workouts, he wasn't anywhere near 100%.

Boykins and Coach Rowles set a goal to start racing by mid-September, choosing an invitational at Baldwinsville to be his first race. Though as the date came closer and closer, he had to accept that he simply wasn't going to race that season.

Not racing for his last cross country season was one of the hardest things that Boykins has had to do. However, just because he couldn't race didn't mean the team captain was any less of a team member.

Every practice, Boykins showed up and did as much of the workout as possible. He encouraged teammates, gave advice, and provided leadership. He even showed up to meets that he knew he couldn't run in.

"He just contributed to the overall vibe of the team," said junior runner Nathan Rindfuss. "He helped us win sectionals. Even though he couldn't run, he played a big part in our success."

Now, as Boykins starts his last indoor track season, he has plenty of room for optimism. He is going through physical therapy, and is paying extra attention to taking care of his body.

In his first mile race since sophomore year, he ran a 4:54, not far off of his previous times. Just racing again isn't enough though. He has higher aspirations. "I want to get down to at least 4:25, or as close as I can, to get my personal record."

Boykins expects to run in college, although he isn't yet sure where. More importantly, though, he is living life with optimism and happiness. In the end, he just wants to be the best version of himself. As of now, he seems to be doing a pretty good job of that.