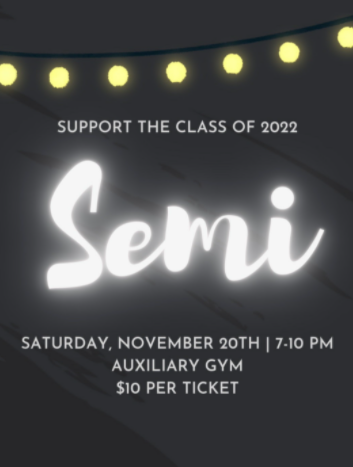 What is the Semi-Formal and what time does the event take place?
The semi is a dance that will start at 7:00 p.m. on Saturday, November 20, and run until 10:00.
What should students wear to the Semi-Formal? Is there a dress code?
The dress code for semi is typically semi-formal attire, but students should wear what they feel most comfortable in.
How much is a ticket? Where and when can they be purchased?
Tickets will be sold during lunches for $10 throughout the week of November 15 to 19, then at the door on November 20. Cash is preferred, but checks can be made out to the Jamesville-DeWitt Class of 2022.
Will there be anything served during the event? If so, is there going to be a fee?
Snacks and beverages will be available for purchase throughout the night.
Will masks be required throughout the night?
Masks and proof of vaccination or a negative COVID test are required for admission.
Will freshmen be able to attend?
All grades are able to attend the dance.
Who should students contact with any questions regarding the Semi-Formal event?
Email Grace Evans at 22gevans@jd.cnyric.org with any questions.