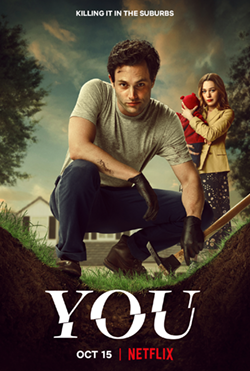 **SPOILER WARNING**
The popular Netflix drama and thriller, "You," first stole fans' attention in September 2018 with its unexpected twists and turns that leave you on the edge of your seat. The third season premiered on Netflix on November 15 and picked up right where the story left off following newlyweds Joe and Love in their transition to a seemingly normal suburban life. The previous seasons followed Joe and the lengths he would go for love. Beginning with innocent crushes, his obsessive tendencies push him to unimaginable heights to remove any obstacle — or person — in his way. When Joe meets a fiery chef from Los Angeles, Love Quinn, in season 2 of the series, he feels an undeniable connection. As their love story unfolds and Love finds out who Joe actually is, she ends up relating to him in more ways than one may think.
Season 3 picks up in Madre Linda, California, with Joe and Love resuming a normal life after the birth of their son, Henry. From minutes into the first episode, viewers see Joe and Love take on new personas as parents and it is almost like they put their old ways aside. If only this was truly the case. With the couple being new to town suspicions arise over the secrets behind a "perfect" American suburb. Joe immediately becomes drawn in by a new neighbor, Natalie Engler, and almost makes it too obvious to his wife that his priorities are not with their newborn son. The town goes wild after the suspected murder of Natalie shakes the nation and the story immediately picks up as different innocent suspects are being targeted. This season is a rollercoaster of thrills and unexpected plot twists that might even top the other two.
One thing that sets this season of "You" apart from the rest is the formation of new relationships and character dynamics. Love gets to know Theo Engler, the charming (and much younger) boy next door and they begin trusting each other a little too much while Love's marriage is turning to shambles. Throughout the series, Joe has always revolved his life around his love of books, from being the manager of his local bookstore in season one to now working at the library in this current season. At the library, he develops a connection with his boss, Marianne, and learns about her life as a single mother raising a young daughter. Although Joe and Love are married, we see more holes in their relationship uncover themselves as the plot thickens. For some shows, new characters getting introduced halfway through the series can be unnecessary and overall unfavored but in "You" they were the perfect addition to add more chaos and tribulation to the story plot.
Overall, right when viewers thought that "You" couldn't top itself from the shock ending of season 2, the show managed to be even better than its previous seasons. If you haven't watched an episode yet, you are truly missing out and once you start, it will leave you hanging on until the very end.