Over the last five years, the Jamesville-Dewitt Girls Varsity basketball program has been honored to experience Momoka LaClair develop and grow throughout her basketball career.
Throughout these years, LaClair experienced two state championship wins, winning the Federation Championship, and accomplished many personal achievements as well. Just recently, LaClair hit her 1,000th point during a game against Christian Brothers Academy.
"It feels amazing to be where I am now and finally feel like all my hard work has paid off. It's such a rewarding feeling."
LaClair grew up into basketball thanks to her family. Both her father and her brother, Takuya, played so she was always around the game. Takuya also played for the J-D basketball team, but graduated in 2018.
It wasn't until LaClair was around 3 or 4 until she really started to express interest in the game. From that age on, LaClair trained every day with her dad. "We'd go to a gym and get as many shots up as possible and work on different drills and skills," LaClair stated.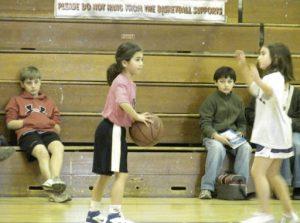 To this day, LaClair still trains with her dad as much as possible. Although her schedule is very busy with lifting three times a week and practicing daily during the season, she always makes time for training with him.
"He's always been by my side teaching and supporting me. I wouldn't be where I am today without him."
LaClair started her varsity experience in 2017 when she was just in eighth grade. Being that young on the team is definitely a big responsibility, but Momo said it couldn't have been a better experience for her. "I was nervous going into it, but all the girls were so welcoming and nice that I settled in pretty quickly."
The J-D Girls ended up making their way to the 2017 State Championship against Pittsford-Mendon. With just 7.3 seconds left in the tense game, LaClair made her second of the two free throw attempts to secure the victory, and the game ended with a score of 48-46.
Soon after, during Momo's ninth grade year she had quite an experience while winning a second state championship and the Federation championship. In both games she was a huge contributor, and ended up scoring the game winning 2-point shot in the Federations to win it 42-41 over James Maddison.
LaClair is a loved player not only by her teammates, but her coaches as well. Many coaches state it was an honor to coach her and watch her develop throughout these years.
"Momo cares deeply about the legacy of this program and I think her many years of unprecedented service to the team will mark her as one of the best players to come out of this program." teammate Everly Kessler '21 states.
After the sudden leaving of J-D girl's varsity basketball coach Rob Siechen this past year, Kurt Sweeney, the freshman and 7/8 modified coach, stepped up and took on the position. With Sweeney having to adjust to the immense coaching role this season, LaClair stepped up as a leader and helped her team through the uncertainty of what was to come this year.
"Coaching Momo as my first year was a privilege," Sweeney stated. "Momo is a team oriented player that just wants to win."
Without LaClair's perseverance and high scoring during each game, the J-D girls team would have struggled greatly this year on the scoreboard.
Outside of her J-D varsity team, Momo also played for a club team, I-90 Elite, for about 5 years. Her club team traveled across the country and played the best teams in the nation. This was a huge part of LaClair's development as a player.
Although Momo has been incredible at basketball and shown the strong side of her all throughout playing, there have also been some obstacles in her journey.
LaClair's been through multiple serious injuries, with the most recent including breaking her ankle in the Sectional Final last season. She went out the first quarter, but did end up going back in the game in the fourth quarter, but not at her full strength or potential.
Through the many physical difficulties, there have also been mental challenges as well.
"My biggest challenge in basketball throughout the years has definitely been the mental side of it. Being mentally tough is something that athletes have to learn to do."
Over the years, Momo has overcome many obstacles and worked on just playing the game she knows and not letting what others think influence her playing. Although, without the struggles, LaClair wouldn't be where she is today.
In the J-D girls second game this season against Christian Brothers Academy, LaClair drained her third 3-pointer in the fourth quarter to reach over 1,000 points in her J-D basketball career.
Coming into the game, she only needed 12 points to reach 1,000. Even with this, she still stated she was more focused on winning than getting their 1000th point. She figured she'd have to score anyways, so she just let things fall into place.
"She's a great basketball player as we all know, but what makes her her is her humbleness and great leadership," stated Kailey McKenna '21.
LaClair is just the fourth Section III player this season to reach this milestone.
"I was super happy and just felt so lucky to be able to get the opportunity, given the fact that we almost didn't have a season."
Unfortunately, the ongoing COVID-19 pandemic cut J-D's 2021 Varsity season a week short due to a positive case on the team.
"This hit pretty hard for me because my senior teammates and I played our last high school game without knowing it. It kind of leaves us with no closure," said LaClair.
Although the pandemic has affected many parts of Momo's basketball career this year, she has committed to play Division 1 basketball at Drexel University starting this fall.
"The sky's the limit for Momo at Drexel and I expect nothing but great things from her over the next four years and I can't wait to watch and be a fan," Coach Sweeney states.
Thanks to the support of LaClair's family and friends, teammates, coaches and all the people who have helped her grow throughout basketball these past five years, she has accomplished so much in her J-D career.
"I'm so grateful for my time here at J-D and the program, but now I think I'm ready to move onto the next chapter in my life. I couldn't be more excited about Drexel and can't wait to continue to grow and learn there."