With it being the month of December, we are officially at the peak of the holiday season. You know what the holiday season brings: all different festive flavors. To honor all of the new holiday food arrivals at the popular chain grocery store, Trader Joe's, the RamPage editors held a taste test to tell you what's worth the hype, and what's lacking in the flavor department.
First up was the "White Truffle Popcorn." Sadly the taste test did not start off on a good note. Although this product had the perfect crunch for popcorn, it lacked in flavor and tasted more like horseradish than a truffle. There were also strong garlic notes being described as resembling the flavor of a jar of minced garlic. This product contrasts to Trader Joe's regularly good reputation of fun and unique flavor combinations like the "Maple & Sea Salt Kettle Corn" from last season. Overall this product received a 3/10.
Next up was the "Decked Out Tree Cookies," a play on a holiday classic, chocolate-covered shortbread cookies. Unfortunately, we were not blown away by the flavors of the cookie and thought it tasted basic. On the other hand, the chocolate was very rich, being compared to European chocolate over normal milk chocolate. These cookies are comparable to an opposing grocery store product, Aldi's chocolate-coated butter cookies. Overall the flavor was decent, but they were nothing special. For that reason, these cookies get a 6.5/10.
After that, we sampled the "Peppermint Pretzel Slims," and they did not disappoint. From the moment the package was opened they radiated a delightfully sweet aroma. Many said it was the best white chocolate (or yogurt) coating they've ever had. The peppermint flakes on top added a nice contrasting texture to the creamy coating. And how the contrast of the salty pretzel to the creamy coating was enjoyable, some say the pretzel itself could've been both saltier and crunchier as it was quite soft for a crunchy treat. Sports Editor Theresa Grosso explains this product as "clonky," and for that reason, we rated these a 7/10.
Staying with the peppermint theme, next up we tried "Peppermint Mini Marshmallows." However, most of us thought the name is misleading and a more proper name would be toothpaste mini marshmallows. The mint flavor was very overwhelming and the marshmallows themselves had an odd texture to the point they almost tasted stale. Although we can appreciate how these are vegan (a rare thing for marshmallows) and gluten-free. Nevertheless, these get a 3.8/10.
To keep it with the marshmallow theme, next up we tried the "Dark Chocolate Covered Minty Mallows." These marshmallows were definitely a step up from the previous ones. Although these had a fantastic mint flavor, there were some details we just couldn't get past. These include the stickiness and squish of the marshmallow, along with an odd chocolate to marshmallow ratio. Overall these weren't too bad, coming in with a 5.75/10.
Again on the peppermint train, next up we tried the "Mini Peppermint Meringues." While these do get points for being fat-free, there were very mixed opinions. Some explain the flavors as "banging" and that they have a nice crunch, whereas others disagree saying they have a strange texture. Lifestyle Co-Editor Grace Evans describes the flavor as when you first bite into it you taste seaweed on the beach, but as you continue to chew a wonderful "Lucky Charms" flavor arises through the seaweed. These received a total score of 6/10.
Trader Joe's just can't seem to get enough of the peppermint flavor with our next try being the "Candy Cane Joe-Joe's Dark Chocolate Bar." It wasn't intentionally made to reflect any other products, and we thought it was comparable to a Crunch bar in flavor and texture. The flavor was a tad bitter, even for being dark chocolate, and was lacking peppermint flavor. According to Culture Editor Nora Gross, "It's just okay," and for that reason, this receives a 5.3/10.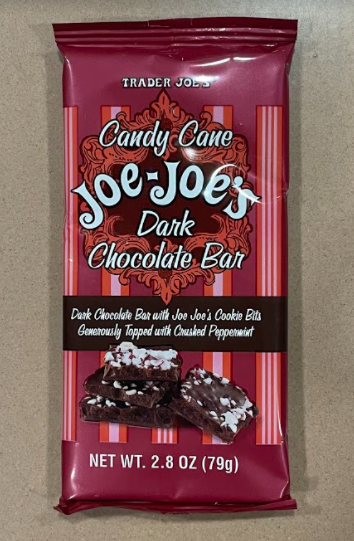 Last but not least, we tried the "Candy Cane Joe-Joe's," a fun play on traditional "Oreos." While we did enjoy these, for the most part, editor-in-chief, Isaiah Steinberg stated "just sell Oreos instead." The texture of the crushed candy canes in the filling contrasted the almost toothpaste-like flavor of it. The cookie itself was a little chewy and definitely could've used more crunch. For those reasons, we rate these a 7.3/10.
Here's how the products ranked:
"Candy Cane Joe-Joe's"
"Peppermint Pretzel Slims"
"Decked Out Tree Cookies"
"Mini peppermint Meringues"
"Dark Chocolate Covered Miny Mallows"
"Candy Cane Joe-Joe's Dark Chocolate Bar"
"Peppermint Mini Marshmallows"
"White Truffle Popcorn"