On Friday, December 11th, the Rambunctious Literary Magazine staff hosted an Open Mic Night on Zoom. Lasting for an hour during the evening, it provided an encouraging environment for students to perform art, writing, or music of any type.
Continuing the tradition which began last year, the staff hoped not only to publicize their magazine to the artists of the J-DHS community, but also to introduce students to the art being created around them, which most usually don't get to see, especially during the pandemic.
Four performers in total shared a versatile collection of work. Senior Evelyn Tao started off the evening impressively, performing two piano pieces. Then, junior Bailey Miller followed, providing the audience with a tutorial on how-to doodle. Later in the evening, inspired by the other two performers, she also shared an excerpt from a book she's working on. The final two performers included published writer and senior, Sondrine Blusk, who read an excerpt from her most recently published book titled Borne From Wings, and senior Bella Avramov, who shared an excerpt from a novel she's working on with a friend.
Both new and returning students were welcome and even a few alumni came back to provide support to their underclassmen. This was Blusk's first Open Mic Night and she was very glad she decided to go, saying, "Before I went, I was worried it would be very formal and serious, but once it started, I realized it was pretty laid back and the atmosphere and people were great."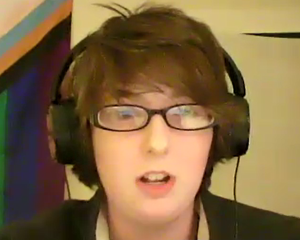 However, the performers weren't the only ones who made the night special. After each performance, audience members showed their support through encouraging comments in the chat and applause either through their cameras or through a Zoom reaction.
Of course, the needed transition to Zoom wasn't the most convenient and it did take away some of the special moments which occur during a regular in-person Open Mic Night. However, the staff made it work. Sophomore Lily Dovciak, a Rambunctious staff member who returned again as an audience member, said, "You don't feel the same group dynamic over Zoom as in person, but as far as listening to and watching performers went, it worked smoothly and all of the performers did a great job."
In the end, the night was pretty successful, with the turnout being great considering it was the first one to be hosted this year and on Zoom. Advisor Ms. Myers said, "We had performers and readers and audience members who all enjoyed a Friday night in, but not alone. I am proud of the efforts by the club to put this event together."
It was a rewarding experience for both performers and audience members alike. Even Blusk, who has only been to one of the nights, said, "I definitely suggest other students come next time, it was low-pressure and a very welcoming environment."
Any student who considers themselves an artist or who even just wants to spend an hour or two with those they don't normally get to see, is encouraged to come to the next Open Mic Night, which the staff hopes to host in February.