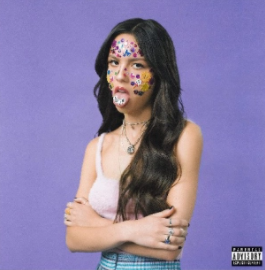 18 year old singer and songwriter Olivia Rodrigo released her debut album titled "Sour" on May 21st, 2021. This album has zero songs that would make you want to press skip and takes listeners through the stages of a breakup and the highs and lows of being a teenager. Whether you can relate to the songs or not, they will make you feel all sorts of emotions and make you want to listen on repeat.
Olivia first gave fans a taste of her remarkable talent this January with her single "Driver's License" that went viral all over the world. Following that release, she also came out with "Deja Vu" and most recently "Good 4 You" after announcing that an album would come later this year. Fans could not wait for this day and Olivia certainly did not disappoint.
One thing that sets this album apart from the others is Olivia's ability to write amazing lyrics that make you think of the story beyond just the song. Fans have speculated that the album title "Sour" was metaphorical in many ways. The first guess was that it could have been an acronym for Stages of Our Unofficial Relationship, which is getting over someone who you never officially dated but you felt all the feelings of going through a break up. Some also thought that the title was perfectly fitting to the feeling of not being bitter after a breakup, and just feeling a little bit Sour.
The album starts off with Brutal, a song that stands out against the rest because it has an aggressive and hard rock type of vibe which is different from all of the others. This song has been controversial compared to the rest and disliked because of how different it is, but personally, Olivia wanted to start out the album with a bang and that is exactly what she did. A lot of other songs on the album such as "Favorite Crime," "Happier," "Traitor," "Enough For You," and "Hope You're Okay" show off Olivia's immense amount of talent when it comes to songwriting with lyrics such as "now I don't want your sympathy, I just want myself back", "I'm bittersweet to think of all the damage we would do, cause I was going down but I was doing it with you", and "nothing's forever/nothing's as good as it seems." These stand out because they are written to seem effortless and fit in place perfectly. The sadder songs on this album are perfect for singing in the car on a rainy day. But sad and emotional isn't the only type of song on this album and Olivia has proved that she can really do it all. "Good 4 You", "Deja Vu", and "Jealousy, Jealousy" are made for dancing around with friends and will guarantee to put you in the best mood.
Within less than a week of launching the album, Olivia has claimed all the top 9 spots on the Spotify charts and all appear in the top 12 and has made the biggest female album debut of 2021 with over 60 million filtered streams. She also became the first artist in Hot 100 history to have two #1 debuting singles from a debut album. On top of that, Sour has also reached the number one spot on itunes and is also occupying all 11 spots on the apple top charts as well.
It goes without saying that Olivia Rodrigo is going to be right up there with female artists like Taylor Swift and Ariana Grande having proved such great success with only her first album. Fans cannot wait to see what she will accomplish next and it will be a great listen guarantee.