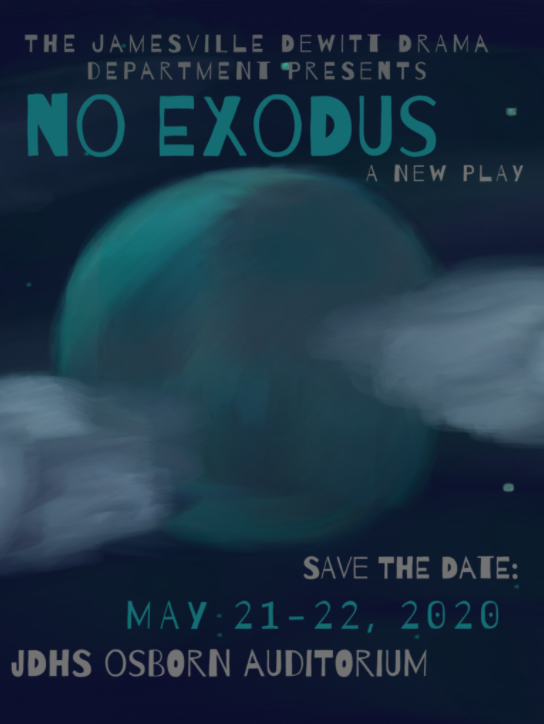 J-D High School is closed. No one gathers in the building. School is shut down. All students are ordered to practice social distancing and many have not left their homes in over two weeks. All after school activities have been cancelled or postponed for the time being. But rehearsals for J-D's drama show still go on.
The play, No Exodus, written and directed by senior Alethea Shirilan-Howlett, is slated to be performed on May 21st and 22nd. While the auditorium at school is empty, the cast of the show has been rehearsing via Google Hangouts and Zoom every day.

"I have no complaints," says Shirilan-Howlett. "These platforms have actually worked unbelievably well for our rehearsals. You'll have the occasional delay or disconnection, but it's so amazing that we live in a time where we can continue these rehearsals and see each other even in these circumstances."

"Online rehearsals definitely help during social isolation," says freshman Meghan Culligan, who plays a young Wendy Symmonds. "I miss seeing people and talking to people every day and this gives me the chance to do that. It's also great to have something to focus on to keep my mind off of all of the scary things that are happening with the virus."

The show has been in the works for quite a while. Shirilan-Howlett began writing the show in August 2018 and started planning for the school's production in March of last year.

The synopsis reads:

"The year is 1995, there's a horrible thunderstorm outside and Wendy Symmonds and her daughter Ruth are having a dysfunctional Passover seder at their home in Syracuse, New York. As the story consistently flashes back to the past, we learn that Wendy was a member of a one-hit wonder 70s band and encountered her own personal struggle in trying to make a living off of what she loved. As the order of the seder progresses, tensions increase between Ruth and her mother as Ruth reveals that her passion is doing art and Wendy's flashbacks become more and more difficult to differ from reality. When the storm reaches its peak, it brings a sudden power outage before leaving a guest from Wendy's past in the doorway. No Exodus examines the personal and cultural stakes of holding onto and letting go of the past and the stories we tell about it."

"It's a tightly knit character drama aided by surrealist elements," says sophomore Sam Phillips, who plays Eli, a bandmate of Wendy's. "As a cast, I think our biggest challenge is to bring humanity to the characters on the page and move the audience emotionally throughout the run."

"The current global situation has closed nearly everything, and yet this magic can continue," says senior Kai Gesek who plays David, another character from Wendy's past.

The show is set to be produced by social studies teacher Mr. Jordan Berger, and assistant directed by Robyn Luk, a junior at the high school. This is Luk's first experience with the drama department, but she has fully invested herself in the process.

"My favorite thing about this team is the conviction of each cast member; how willing everyone is to learn. The goal is to see it on stage, obviously, but there's an extra layer of hope and love for the material because I'm so closely involved with the person who made it and the production process. Watching it all come together makes me want to see it thrive even more," she says.

The plan remains to have the proceeds of the show go to providing scholarships for children in the area to attend art camps.

"Without financial aid, I would never have been able to go to art and drama camp to work on my skill," says Shirilan-Howlett. "I don't think this play would have been written if I hadn't lived those experiences."

The cast and crew understand the uncertainty of the situation, but hope that in a worst case scenario, the show can still be produced. Alice Yi, a junior who has volunteered to do set painting, expressed her excitement about the production.

"I really wanted to support the drama show because I hadn't gotten involved in past years," she said. "Set painting is also something I found I really enjoy doing. The process is lots of fun and being able to see your final product on stage is insanely cool."

"The most important thing right now is the health of everyone involved in the production," says Shirilan-Howlett. "As rough as it is, social distancing is the doctor-recommended way to flatten the curve and get on the right track of beating this thing. My main priority is the well-being of the cast, and I trust that we'll come back when it's safe to come back. I want to make sure everyone is healthy in the outcome of each decision we make."

"I do hope we get to perform it like it was meant to be performed," says senior Abby Morgan, who plays an older Wendy. "The best thing to do is to support it in any way you can. Spread the word to your friends and family and help us build an audience."

"It's a beautifully written and produced reflection on culture and human emotion; if you have a mother or if you have a daughter or if you're familiar with music or mental health or if you are all or none of these things you should be invested in the show because it's a story about what it means to be a person," says Luk.

A full cast list can be found below and also on the show's Instagram (@noexodusplay) and Facebook (@noexodus).
Cast of No Exodus

1976-1978
(Young) Wendy Symmonds…………………………………..Meghan Culligan
(Young) Carmen Vogel…………………………………Nicole Meskos
David Geller…………………………………………………Kai Gesek
Eli Iseman………………………………………………………Samuel Phillips

1995
Wendy Symmonds………………………………………….Abby Morgan
Carmen Vogel……………………………………….Stephanie Lynne
Ruth Geller-Symmonds…………………………………………….Anka Chiorini
Oscar Rosen……………………………………………Khani Cossa
Paige Wilson……………………………………………Alexandra Skovron