By Meghan Byrnes and Morgan Brang
Managing Editor for Production and Assistant Editor for Production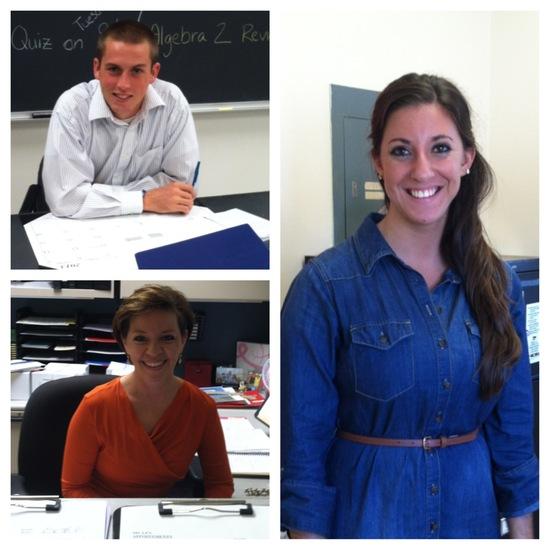 This year, the freshmen new to Jamesville-Dewitt High School may not be the only people you see in the hallways with confused looks on their faces. Here to experience the struggles of being in a new place are a couple of new teachers and a new Counseling Center secretary. Added to the J-DHS staff this year are math teacher Michael Daly, French teacher Lauren Ludivico, and guidance office secretary Renee Palladino.
"Growing up I always knew that I wanted to be a teacher," said Ms. Ludivico. Starting in high school she began to love the French language, which she later pursued in the teaching world. Ms. Ludivico grew up in the Syracuse area, graduated from West Hill High School, and later finished her Master's Degree at Le Moyne College, so she has always been "familiar with J-D's great reputation." When a French opening became available at J-D, she was "thrilled" from always hearing the positive feedback about the district and she was pleased to discover it wasn't wrong; "Everyone has been extremely helpful and supportive," said Ms. Ludivico about the people that surround her at J-D.
"One of my favorite parts of working here so far is the amazing staff and administrators," said Ms. Ludivico. However, a downside of starting her new job is not knowing any students and trying to navigate the buildings. Adding difficulty to the new start, Ms. Ludivico has to learn to navigate two buildings since she works in both the high school and the middle school. Being new to the district, most the students don't know Ms. Ludivico, as well. "I am still getting to know the strengths in the classroom," said Ms. Ludivico. Ms. Ludivico has high expectations for her students to do well but also hopes they enjoy going to French class. "I want my students to have fun while learning a new language," she added.
Even though Ms. Ludivico's students are just getting to know her, they already have nothing but good things to say about her. Freshman Lizzie O'Brien has realized that so far Ms. Ludivico is "really nice and fun and energetic." According to O'Brien, Ms. Ludivico seems like she knows what she's doing because she is always talking in French which helps the students learn. Freshman Emma Gibson says that "she reviews old material," which helps refresh their memories. Freshman Honoré Lash-Quinn added that Ms. Ludivico speaks clearly when she talks. "I hope by the end of the year I will be able to speak French better," said O'Brien.
The only other new teacher also knows about the great reputation the J-D district has because he graduated from J-DHS in 2007. Mr. Daly joined the math department this year. "I like helping kids out and I was always really good at math so it made sense to teach math," said Mr. Daly who attended SUNY Geneseo where he received his bachelor's degree. He also attended some graduate classes at the University of Rochester and is still in the process of getting his master's.
Having gone to college in Rochester, Mr. Daly decided to remain in that area and seek out an opportunity for his first teaching job. "I worked in Batavia High School for a while. Last year I worked in Rochester City School district at Roberto Clemente School Number Eight, teaching seventh and eighth grade," added Mr. Daly. However, his experiences in these districts, especially when compared to the time when he attended J-DHS, drew his attention back to this district. "I knew I was going back to Syracuse, and having gone here I knew everything about J-D and the good reputation they had, so this was really the best job I could have ever wanted," he said.
According to Mr. Daly, the culture of J-DHS is much different than the schools he worked in previously, which is one of his favorite things about joining the staff at the high school. "I took that for granted when I went here. I just thought that every school was like this, but they really aren't." By expanding his horizons and previously being involved in different districts, Mr. Daly has learned to appreciate all that the J-D district has to offer. "In my old schools, nobody cared if they failed a test, it didn't matter to them. Whereas here, everyone strives for excellence," added Mr. Daly.
As with any other job, starting off in a new place can be very difficult. Although Mr. Daly has an advantage in that he knows his way around the building already, the names aspect is tripping him up. "I have 130 new students and I tried to pick their names up in a week," said Mr. Daly. However, he is quickly adapting to the changes a new job brings, and has some high goals for this year. Mr. Daly has set a personal goal to be successful in preparing his students and helping them as much as possible. "I think my performance will be shown based on the students results," he added.
According to junior Cortney Vaughan, he is making strides towards these goals so far."He caters to the students needs, he will move you up front or help if you need extra help on a problem," said Vaughan. The students have high hopes for this year in math as well. "He's a good guy, he's very smart. I hope he gets me ready for Calculus next year," said junior Ryan Durkin. Although getting used to a new job can be difficult for a teacher, many of the students are excited about the idea of having a new, young teacher. "I think it will be good because he's just out of college and he's new so he just learned everything," said junior Julia Slisz. Junior Brian Cieplicki agrees; "he seems like he is relatable because he's young."
Also new to the building, replacing secretary Anne Vieau, is new Counseling Center Secretary Renee Palladino. Although she has not worked in the building before, she does have some familiarity with the atmosphere because she has been in the district for seven years and has a daughter (junior Hannah Palladino) who attends J-DHS.
"I worked at Jamesville Elementary School for seven years, so I was with the little kids," said Mrs. Palladino. However, when this job opened up, Mrs. Palladino was eager to take it because she loves working in an office setting and enjoys spending vacations and summers with her kids. Because she has worked in a school setting for many years, she has never had to worry about missing out on time with her two kids.
"This school district is amazing," said Mrs. Palladino. "The energy up here (at J-DHS) is better because all of (the students) are confident and very mature acting," she added. Mrs. Palladino likes this as opposed to the elementary school because at JES the staff did more consoling when it came to the younger kids.
Not only was she ready for a change, but Mrs. Palladino saw this as an opportunity to learn about the college process with her oldest daughter getting ready to think about what she wants to do after high school. All of these factors led to her taking this new job. "The positive spirit has been amazing," said Mrs. Palladino about both the students and her co-workers. "I love when you guys come in and are polite, and knowing that people are getting to know my name," she added.
Fellow Counseling Center secretary Barbara Barker is excited about having a new worker in the office with her. "She's wonderful," said Mrs. Barker about Mrs Palladino. "Her personality makes the day very enjoyable." In addition to Mrs. Palladino's great personality, according to Mrs. Barker, she also brings organization and cleanliness to the Counseling Center.
Something difficult that Mrs. Palladino has to deal with as a new staff member is the learning process and not knowing answers to many of the students questions. "Just getting over the learning curve, that's probably the worst part of the job," said Mrs. Palladino. Mrs. Palladino wants to be the "go-to person" for the students and to be as helpful as possible. "I just want to be invested and involved here, I love being part of this school."