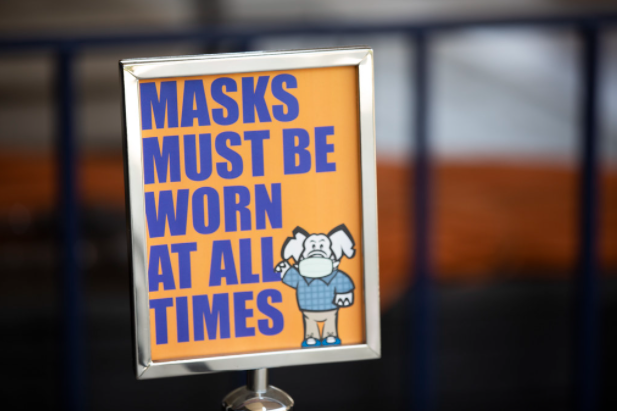 On Friday, December 10, New York Governor Kathy Hochul imposed a statewide mask mandate. As of December 13, all persons over the age of two in all public indoor places are required to wear a mask, unless the venue requires proof of vaccination for those over the age of 12. This mandate will be set until at least January 15, 2022, before being reevaluated. It is supported by the New York State Health Department. Businesses that do not comply with this mandate could be subject to civil and criminal penalties with a maximum charge of $1,000 per violation.
This mandate has been implemented to take action against the highly mutated Omicron COVID variant, making up 3% of confirmed COVID cases in the U.S. (13% in New York specifically). The state's increasing hospitalization numbers and weekly case rate have also influenced the mask mandate decision. The average seven-day case rate has spiked by 43% and hospitalization numbers have increased by 29% since Thanksgiving.
"The temporary measures I am taking today will help accomplish this through the holiday season. We shouldn't have reached the point where we are confronted with a winter surge, especially with the vaccine at our disposal, and I share many New Yorkers' frustration that we are not past this pandemic yet," Hochul says.
Although New York has imposed a mask mandate, some counties aren't following this order. Chautauqua County Executive P.J. Wendel says that he encourages people to get vaccinated and wear their masks, but believes that businesses should be able to decide whether or not their customers wear masks. Wendel believes the mandate is not enforceable.
Genesee and Orleans County Public Health Director Paul Petit states that they also will not be enforcing this mask mandate. Petit states, "We do not have the capacity to enforce mask mandates, and enforcing mandates is not the best use of our limited resources at this point of the pandemic response. As we have throughout the pandemic in line with CDC guidance, we continue to advise residents to properly wear masks indoors when social/physical distancing is not possible." Following that statement, Orleans County Legislature Chairman Lynne Johnson revealed that Orleans County will continue to focus county resources on vaccinations, contact tracing, testing, and keeping kids in school.
13 Republican-controlled counties have refused to force businesses that don't require vaccination for admittance to make workers and customers wear a mask. Among these counties is Greene County in the Catskills. Greene County Administrator Shaun Groden states, "What am I going to do, station somebody at a Walmart 24/7? It's silly. My staff will have to mask up. But we're not going to become the mask police." Groden adds, "We will still encourage people to get vaxxed. Otherwise, it's just something we can't accommodate." Niagara, Nassau, Rockland, Orange, Puttnam, Dutchess, Saratoga, Rensselaer, and Madison Counties are the others that will not be enforcing the mandate.
Onandaga County is one of the many counties that is complying with the mandate. Businesses either have to require proof of vaccination or enforce customers to wear a mask or they could be fined. Onondaga County Executive Ryan McMahon shared that he doesn't want to punish business owners, but rather work with them. This order made by Hochul does not change the New York State Department of Health mandate that all public and private schools in New York are required to enforce masks.