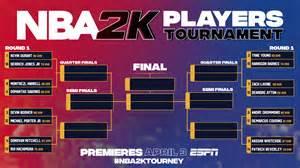 All major sports in America have had play suspended for nearly two months. This has left people searching in new places to get their sports fix. As a result, the world of eSports has been blowing up in popularity lately.
The classic games like Overwatch and League of Legends still have successful seasons going on. Hoverver, the coronavirus outbreak has resulted in some sports that typically compete in person having some online competitions. At the center of this movement is the National Basketball Association.
Unable to play games in person, 16 NBA players competed in a tournament on NBA 2K20. Players like Kevin Durant and Donovan Mitchell were ranked based on their individual rating and placed in a bracket.
Each player could pick eight teams to play with, but could only use each team once. The early rounds were single-elimination, but the finals were played in a best of three game format.
Phoenix Suns star shooting guard Devin Booker swept his teammate Deandre Ayton in the finals. He used the Rockets and Nuggets to take down Ayton's Lakers and Bucks.
The tournament was broadcast on ESPN and garnered massive viewership. At the end of the tournament, $100,000 was donated to coronavirus relief efforts.
Although online basketball will never replace the real thing, it is safe to say the combination of live sports and eSports had a successful start.