If you're not already familiar with them, Movements Through Music is a student music organization in CNY whose main goal is to make beautiful music, while still benefiting charities and supporting justice movements in our current pandemic. Movements Through Music will be holding a virtual holiday-themed concert on the 18th of December at 7:00 pm EST. For this concert in particular they ask for donations to the CNY Food Bank and Feeding America due to the increased need with the Covid 19 pandemic. If you are unable to attend and would still like to donate, you can click here, Donate.
Movements Through Music was originally created by two JD students, Elena Fitzgerald and Kira Pawletko. This will be their fourth concert, and it features a new addition to their team, producer May Dolphin. Co-music director Kira Pawletko explained why she wanted to be apart of Movements Through Music: "As a high school student, I feel that it is incredibly important to make my voice heard on various social justice issues. Movements Through Music gives me the opportunity to express myself through music and share my passion with others." She expressed how her love for music combines with standing up for social justice issues. Movements Through Music gives her the opportunity to express herself through music while still sharing her passion with others.
So how do they choose to steer donations? Movements Through Music was originally founded to show support for those facing racial and social injustices, like the Black Lives Matter Movement and LGBTQIA+ rights. With the current state of the world, May Dolphin explained how they, as a group, decide what issues they feel their concerts should benefit. First, they figure out what current issues they all feel strongly about. She said they will "also take into account the national and local sentiment at a given point" when making their final decision.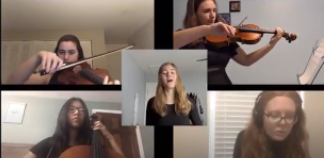 As mentioned before, with the current pandemic they've had to figure out how to use their platform while still maintaining protocol and keeping it safe for everyone. This is where the idea for virtual concerts came in. May Dolphin explained the steps for prepping for a virtual performance as "First the music must be arranged on Musescore, before the sheet music is delivered to our musicians. After we gather individual recordings from our musicians, the individual videos are pieced together to make a cohesive music video or audio recording. Finally, these videos, along with the video introductions and credits are attached by utilizing IMovie."
As straightforward as that may seem, a lot happens behind the scenes to prepare a virtual concert. Co-music director Elena Fitzgerald explained some of the behind the scenes as "an extreme amount of FaceTime calls and Zoom meetings with Kira and May." Pawletko added, "A lot of time and planning goes into making virtual concerts happen, especially when it comes to organizing musicians, writing arrangements, and assembling the final videos." But everyone can agrees that preparing for a virtual concert takes a lot of time and effort. However, at the end of the day it's something they're all very passionate about and love doing.
Pawletko said, "Personally, I hope that Movements Through Music shows people that you can create your own change through whatever medium you choose. Art, dance, music, creative writing, and so many other disciplines can be fantastic platforms to use to help others and raise awareness for various causes, so I hope our concert encourages other students to make their voice heard in their own unique ways." If you'd like to learn more about what Movements Through Music is all about, you can click here, About Movements Through Music.
Movements Through Music will be holding their virtual holiday-themed benefit concert on the 18th of December at 7:00 pm EST. You can find more information on their website, or you can click here to RSVP. Below you'll find the names of all the members. Click here to learn more about them! Musicians
Directors: Elena Fitzgerald and Kira Pawletko
Producer: May Dolphin
Featured Arranger: Max Oppedisano
Vocalists: Jenna Law and Emily Ninestein
Instrumentalists: Katie Bates, Tim Beshers, Michael Bratslavsky, Trinity Cottrell, May Dolphin, Elena Fitzgerald, Sarah Kornfeld, Claire Macero, Nancy O'Connor, Ciara O'Donnell. Max Oppedisano, Kira Pawletko, Adrianne Weldum, Nora Weldum, Katie White, and Alice Yi
Sample Video of Movements Through Music