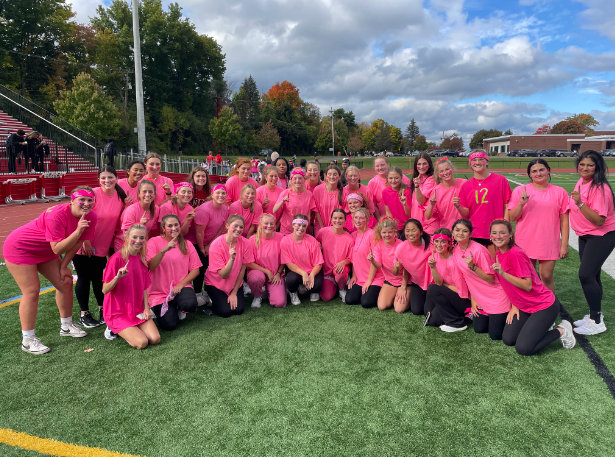 This year's Homecoming Week culminated in J-D High School's first ever powderpuff football game. The idea of a powderpuff game is an annual tradition for high schools all around the country. But this year, the senior class student government brought the tradition to J-D for the first time. The idea behind a powderpuff game is essentially an all girls game of flag football or touch football. The game was seniors against the juniors, and the game was full of adrenaline and excitement. It took place after the annual Homecoming Pep Rally on October 8th, 2022.
Both sides got decked out in bright colors representing their class and came with one goal in mind: victory. The juniors started out with a little bit of a lead, but ultimately the seniors showed their dominance and ultimately won with 3 goals from senior, Megan Baker. Something that made the powderpuff game so memorable was the energy from both sides. Screams of excitement and spirit radiated from the turf and into the stands. It was a great way to bring together both grades and include everyone who wanted to play a part. Senior Ava Harle says, "I think [the] juniors and seniors should keep this tradition going because it allows all the girls to have a super fun and lighthearted competition." It goes without saying that a new tradition has begun at J-DHS this year.
Junior Melissa Crossett says, "I think that it was so much fun and such a great way to show school spirit. This is our first normal year since Covid, and now we can start these new traditions. It was such a great thing to start the new year with. Even though we may have lost, I still think everyone had an amazing time and, we will be back next year. So watch out."
Although the teams of players were all girls, senior and junior boys were able to get involved by being coaches, cheerleaders, and even much needed referees. Those in these positions brought the feeling of a real football game to the field. With props like headsets and clipboards, everyone was fully committed to their roles. 
The senior class student government slate had a vision to make this powderpuff game a reality, and they truly did not disappoint. Officer Ella Brann explained that they wanted to start something new to encourage spirit throughout homecoming week. "It was amazing to see everyone participating. Players, coaches, cheerleaders, and even spectators of the game did a great job of bringing the senior class together. I hope this was the first of many powderpuff games and that it becomes something younger grades can look forward to each year," says Brann.
Another senior class officer, Lily Butler, mentioned that, "We wanted to do something J-D hasn't done before and make it fun for the whole grade and something everybody could participate in. We hope to do more things like this as the school year goes on." After lots of planning and preparation, the senior class officers provided an impressive kick off to the school year in hopes of continuing this fun tradition for many years to come.