Marianna Lorenzo, '22
The annual Special Olympics was hosted at Cicero-North Syracuse High School on May 23, 2019. Over 900 students from Central New York participated in a range of events including foot races, shot put, long jump, standing board jump, and even bowling and bocce ball. The eight representatives from J-DHS were Rachel Sartori, Selah Ladew, Ryan Arguinzoni, Bradley Leiker, Greg Burenin, Finn O'Brien, Tim Beshers, Michael Behan.

To prepare for the Special Olympics, the athletes practice their events in their physical education classes. Each student enjoys his or her events.

The running was Ryan's favorite part because he got to "jump in the sand".

Rachel really enjoyed the running, but she also took part in the shot put.

Selah's favorite event was the shot put. She had a lot of fun doing it.

Unfortunately, due to gloomy weather, the JD participants had to return to school before they had a chance to enjoy some of the activities like the mist machines, the mascots, and the sno-cones. According to Mrs. Smith, the one thing she would most like to change for next year would be the weather.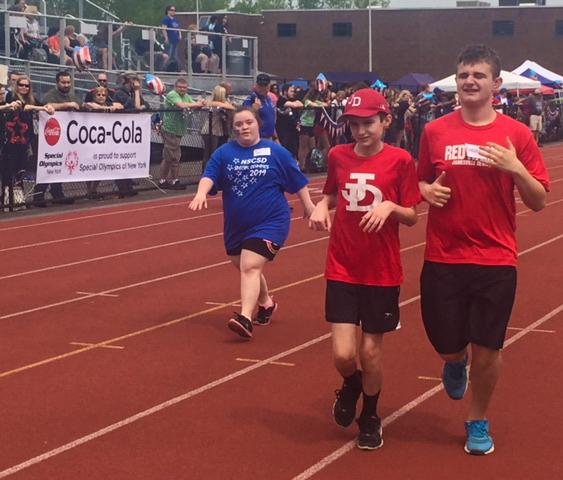 However, for Mrs. Smith, she most loves to take time to watch the smiling faces of the athletes and their families as they share in such a fun and fulfilling time together. "They get to experience this for the first, and sometimes the only, time," she adds.

The students look forward to the Special Olympics each year. "It really gives them a lot of confidence and pride," said Mrs. Smith. She especially appreciates how the middle school student body comes out to cheer on the J-D athletes as they depart for the competition.

The Special Olympics were first held in 1968 due to the efforts of the Kennedy Shriver family. This year in Syracuse, more than 800 Special Olympians participated.