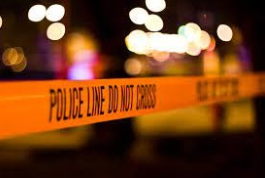 On Sunday, October, 24, Houston police received a call from a 15-year-old boy stating that his brother had been dead in their apartment for a year. Authorities would soon find out that this was not a normal crime scene. They would find the decomposed-year-old skeletal remains of an 8-year-old boy in the same apartment his siblings were still living in. Information about this incident was released only four days later on Wednesday.
Authorities have ruled the case a homicide and have identified the boy as Kendrick Lee. The boy whose remains were found was estimated to be killed around Thanksgiving last year. His cause of death was blunt force trauma to the head and his corpse showed many further signs of physical abuse. It has since been determined that the boy's mother's boyfriend, Bryan Coulter, 31, had killed him.
The boys' remains were found in an unfurnished apartment with soiled carpets just outside of Houston, where his three brothers, ages 15, 10, and 7 had been living. The three had been abandoned, malnourished, hungry, and living alone for months with not even blankets to keep them warm. Due to the remains, the interior of the apartment was swarmed with bugs like flies and roaches. On top of that, police discovered the 10-year-old suffering from a jaw injury alleged to be caused by Coulter that will require surgery.
It was also discovered the mother, Gloria Williams, 35, and her boyfriend had abandoned the children months ago. They moved into an apartment by themselves during February or March of this year about a half-hour from where the boys were living. Officials say at least two of the children are believed to be on the autism spectrum, being described as "special needs." None of the children had been to school since May 2020.
Harris County Sheriff Ed Gonzalez revealed that they believe the boys' apartment was being paid for through government assistance. It has not been specified if they had any type of running water or electricity. Investigators said the mother would occasionally drop off food at the apartment either by drop-off or food delivery service. It was often processed junk food like noodles, chips, and sodas. The boys were not getting the sources of nutrients they needed. It has also been revealed some neighbors would occasionally bring the boys food and charge a cell phone for them, unaware of the conditions they were living in. Sources say they believe once-and-a-while food deliveries were the only thing they were eating, explaining why they all appeared malnourished.
Two brothers testified on behalf of their diseased brothers along with investigators in the courtroom speaking of the abuse the siblings encountered. According to court records, the 7-year-old and 10-year-old told investigators they witnessed Bryan Coulter use not only his fists, but also his feet to kick Kendrick, and hit him in many areas including his face, feet, buttocks, back, legs, and testicles. "Brian Coulter continued to stare at [Kendrick] as he kicked him. [The 7-year-old] said [Kendrick's] eyes were black and he stopped blinking during the assault. [The 7-year-old] said they pulled back the covers and saw [Kendrick] was dead and saw roaches everywhere on him," said one of the boys, released in court records. The two younger brothers also gave a gruesome testimony of the abuse that has not yet been released. Harris County Sheriff's Office Sgt. Dennis Wolfford revealed that investigators believe while the mother and her boyfriend were living at the apartment, the boys were not allowed to leave the apartment, possibly locked in rooms for extended periods of time, and living in constant fear of beatings.
Gonzalez says, "For many agency veterans, it was the most disturbing scene they worked in their entire law enforcement career. It seemed too horrific to be real." He also reveals how the children may not share the same father, but either way, none of them have a father in their lives.
In an early hearing, Coulter's bail bond was set at $1 million. If he posts bond, Coulter must wear a GPS ankle monitor under house arrest until his next court appearance. Williams' bond was set at $900,000. She was charged with felony injury to a child by omission and tampering with evidence (a human corpse). As of now, Coulter is only being charged with murder, but authorities say it's likely they will face additional charges. Before her arrest, Williams' pleaded with investigators saying she never told authorities what had happened to Kendrick in fear of her going to jail and her children being taken away, she also claims Coulter told her not to.
A judge granted the Texas Department of Family and Protective Services temporary custody of the three siblings. "Child Protective Services does have a history with the family, but there was no active CPS investigation at the time the children were discovered alone in their apartment," said Melissa Lanford, a spokeswoman with the Texas Department of Family and Protective Services.
What will happen to both the children and the abusers is still up in the air. It is estimated Coulter will get anywhere from five to 99 years, or life in prison if not charged with anything else besides murder, which is unlikely. Meanwhile, Coulter has been ordered not to have contact with any minors, including any of the siblings, and absolutely no contact with the boys' mother. Like Coulter, Williams has been ordered to have no contact with her children, or any other minors, and no contact with Coulter.