Sports Editors Tyler Aitken, '21 and Samson Myshrall, '21
The Jamesville-DeWitt varsity football team has been riddled with challenges this season. Low numbers, young players, a new league, and now an injury to star quarterback Ryan Vespi are among the many obstacles the squad faces moving forward.

Coming off of a devastating double-overtime loss to Westmoreland two weeks ago, JD looked to bounce back with a homecoming win over their rival East Syracuse-Minoa last Friday night. Only a year ago, the Red Rams hosted ESM for the Jamesville-DeWitt homecoming game, and came away with a 28-20 win.

This year, Jamesville-DeWitt held their own against the Spartans, keeping ESM at bay with a scoreless first quarter of play. The second quarter was a different story. JD gave up a staggering 23 points in the second quarter alone, as the cross town rivals quickly silenced the boisterous Jamesville-Dewitt student section. After the half, the Spartans scored one more touchdown, winning the game 30-0.

Vespi was taken out early in the first quarter of the homecoming game on Friday. His season-ending collarbone fracture was a massive blow to the Red Ram's attack. "Losing him limits our effectiveness on offense," said J-DHS head coach Eric Ormond. Although the Rams lost their starting quarterback, they will not change their offensive gameplay for the rest of the season. "We run a system, and both of our quarterbacks, and now our other backup quarterback, all fit into that system the same way," said Ormond.

Following Vespi's injury, junior running back Marcus Payne took over at quarterback. While he failed to score in his first outing under center, Payne will continue to get opportunities as the season progresses. Coach Ormond looks forward to the younger players on the team, like Payne, getting a chance to mature in the upcoming games.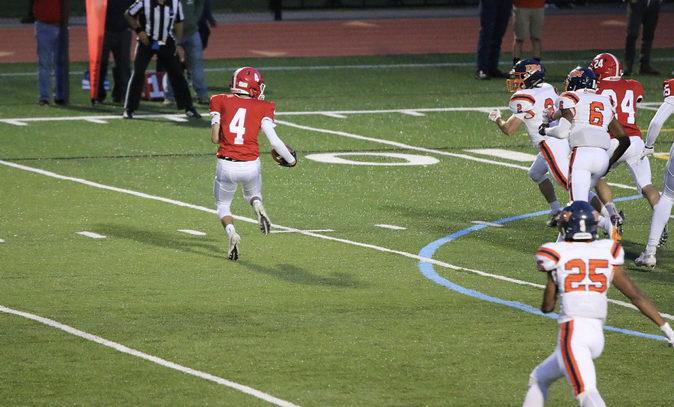 Four sophomores are on the squad this year, each of them playing multiple positions. Caleb Smith, a running back and defensive back, said that he and the rest of the team are already laser-focused on their next game. As underclassmen, the sophomores will have plenty of time to grow. The season may not be going perfectly, but the Jamesville-DeWitt football program hopes to have a brighter future ahead.

The loss drops J-DHS to a 0-2 record on the season. The Jamesville-DeWitt Red Rams varsity football team will travel to Carthage (1-1) on Friday, September 20th.