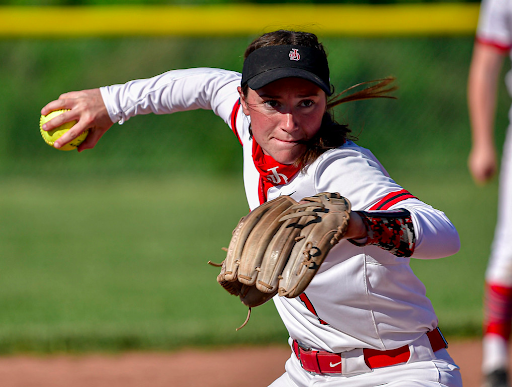 Junior Kate Dorazio has made quite an impact for the Jamesville-Dewitt girls softball program with this being her fourth year on the team.
Over the course of these four years she's been an important contributor leading the team to two sectional titles in 2019 and 2020, and was named first team all league in 2019. Kate defeated the odds and started varsity in eighth grade, and now is committed to play Division 1 softball at Syracuse University starting fall of 2022.
Kate started off her softball career just as a little kid. She's always been exposed to the game thanks to her sister, and started playing T-ball at just six years old. Her main focus when she first started playing was to be better than her sister, but now that desire has faded away and she simply plays because of her love for the sport.
"Now I play the sport because it is so much fun to compete with my friends on field, from dancing in between innings, to picking up my teammates when they get down, it all combines to just an overall fun sport. Softball also gets me away from the stresses and pressures of life, so playing takes my mind off the real life."
While growing up all of Kate's family members always worked more than one job, so seeing that strong work ethic from such a young age influenced Kate to work just as hard throughout her softball career and always exceed expectations. Family has always been a huge motivator in Kate's softball career, and she especially wouldn't have achieved so much without her mom. From driving almost three hours to practice three times a week for her club team and traveling to tournaments each weekend, Kate states to this day she still doesn't know how her mom did it. "My mom has really been my rock. She has always pushed me to become the person I am today. She takes days off from work, travels with me all summer, and anytime of day she will practice with me if I ask."
With help from her supportive family, training started for Kate at a very young age. Even if it was just throwing a ball with her family members outside, Kate was always grateful for the help. "When I was younger and I went to watch my sister play I would spend all weekend playing catch with my brother at her tournaments. Then when we got home we would play games of competitive wiffle ball."
It wasn't until she began middle school where she really started to specialize in softball and her serious training took off. At this young age, she began to lift weights, run, and get as many reps in as she could. Now, as her training has advanced with her experience, she works more on breaking down her swing and mechanics.
Along with her supportive family, Kate's friends, teammates and coaches have tremendously helped her throughout her many years of playing softball. Without the strictness and encouragement from them, Kate wouldn't be where she is today.
"And my coaches, they have been the people that have always been hard on me and have always yelled at me the most, but it always paid off. My coaches would push me every single day, and all the coaches I have had had taught me so many life lessons."
At the start of eighth grade, Kate was too scared to even speak on the varsity team. The J-D girls softball players along with the head coach, Jeff Cantor, were nothing but supportive of Kate and helped her with whatever she needed. This has now encouraged her to be the same way toward the underclassman these previous years. "Now being on varsity for about 4 years I try to have the same impact on the younger players. I think one of the best parts is the relationships you form."
Kate is the lead-off batter for the Red Ram team, since she's almost able to adjust to any pitching style or speed. Once she gets on base, her focus shifts toward helping her teammates and telling them what the best play would be for them to make.
"Kate is a great role model to me and everyone else on the team. She always helps in any way she can. When I get a ground ball playing second base I always hear her telling me where to go with the ball and to flip it or not," Maci Stewart '23 states.
Just this season, Kate has 57 AB's, 28 runs, and 31 hits.
The J-D girls softball coach, Jeff Cantor, has always followed Kate in her softball journey. He even coached her sister when Kate was younger, which made her desire even more to be on the team at such a young age. "I have never seen a coach care so much about a program. His hard work and dedication is shown and is something that makes all of us work harder in practices," Kate states.
"I've coached Kate on and off since she was 8 years old. Kate is a tremendous leader and one of, if not the best, defensive player I have ever coached. Her biggest contribution is her work ethic. The example she sets inspires and motivates our younger players in the program," Cantor states.
As much as the J-D softball team and players on it have influenced Kate's career, her club team called Rhode Island Thunder Gold, is where a lot of her development came from. This team is made up of the top girls from the Northeast, mainly including Massachusetts, Connecticut, Rhode Island, New York, and New Hampshire. They travel almost every weekend to face the top competition in each state, and a year ago they even defeated one of the top five teams in the United States.
The coach of Rhode Island Thunder Gold, Elise Frotier, has also made a huge impact throughout Kate's softball journey.
"She had basically re-taught me the game of softball. She approaches life as a winner, she is my role model and has led me in the right direction only knowing her for two years." Kate adds. Without Elise, she wouldn't be the competitor she is today.
Along with the coach of Rhode Island Thunder Gold, Kate mentions that her teammates overall truly made it the most memorable experience for her.
"The girls on this team are the best teammates I have ever had. They are like coaches but are your teammates at the same time. We teach each other and help each other but when we play, we all compete and just love to win with each other. It is an atmosphere that you crave when you are on a team. It is the most hardworking group of girls that have pushed me to work harder every single day."
With help and experience from our own J-D team along with the multiple different travel teams Kate has played for, she has committed to play Division 1 softball at Syracuse University starting fall of 2022. At the beginning of freshman year, she started the recruiting process and traveled to countless different camps and college showcases. She committed at the beginning of this school year, as a junior, and is nothing but excited to be given the opportunity to play at such a high level.
"I knew since my freshman year of high school that playing college softball in my home town is something I want to do. Syracuse was my dream school. One of the coolest parts to me is the idea that I grew up watching Syracuse Softball at Skytop stadium and always got pictures with the girls after the games and always got their signatures," Kate stated. "I'm hopeful that's going to be me now with another little girl who dreams just as big."
As Kate wraps up her second to last season here at J-D, her impact on the Red Rams softball team is clear.
"Many times we see her work at practice and we all remember why we are here working in the first place," J-D teammate Isabella Sindoni '22 states.