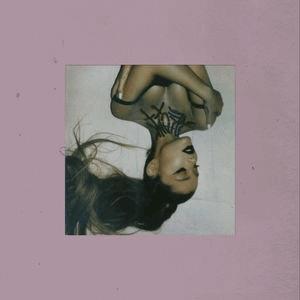 thank you, next by Ariana Grande
Luke Hobika, '20
4.65/10
Best tracks: "imagine;" "bloodline;" "fake smile"
Worst tracks: "make up;" "7 rings;" "break up with your girlfriend, i'm bored"
---
Ariana Grande can't seem to catch a break in the atmosphere of today's culture. Grande has experienced moments and feats in her career that acclaimed artists have not even endured themselves. With her career blasting off in 2010 as an actress on the Nickelodeon series Victorious, Grande has metamorphosed into a mainstream cultural icon with her ventures into music and further acting. Three number-one albums, ten top-ten singles, and a handful of film and television portrayals are just a few accomplishments of Grande's artistic career. Behind the microphone and cameras, Grande has suffered a substantial amount of personal hardships. In 2017, the concert Grande hosted in Manchester, the United Kingdom was the setting for the infamous Manchester Bombing, which resulted in the killing of 28 people. As an outcome, Grande grew a victim of depression, PTSD, and anxiety. Compounded onto this, Grande's long-term boyfriend, Mac Miller, who she had separated with recently, fatally overdosed on fentanyl, alcohol, and cocaine at only 26 years of age. The abrupt tragedy of Miller added more stress onto Grande while simultaneously launching her further into the spotlight. Over the course of the last half year or so, reports concerning Grande's most recent releases and relationship with comedian Pete Davidson have dominated the news. Of course, with major publicity comes widespread scrutiny.
thank u, next primarily represents Grande's response to the demands and accusations placed upon her by the media. The 41-minute studio album depicts Grande's perspective on various stages of her career. The subtle change in Grande's behavior from track to track corresponds with the media's influence on her and her blossoming into adulthood. To start, "imagine" portraits Grande at her most vulnerable, self-conscious, and hesitant. The idea of doubting the existence of the beneficial aspects of a relationship on "imagine" relates to Grande in her early career, unsure of herself while being put under the microscope of the public. Along with "imagine's" buoyant vocals and lyrics of desire for life's solutions, the echoing, sedative instrumental compliments the notion of helplessness experienced by Grande at that point in life. Her insecurities are further examined on the downtempo "needy" and uncertain "NASA." Yet, the Wendy René-sampled "fake smile" serves as a crucial moment on thank you, next because it represents the first point in time when Grande began to refuse to display a facade to the public. Grande's poised delivery on this track only grows in influence on the tracks that follow. The risky "bad idea" includes Grande diving into various risks in life that she is now comfortable in taking. Additionally, the empowering production of "in my head" grippingly backs Grande's discussion of the fantasies that have saturated her mind as a result of the level of attention she has been receiving. By the last track, "break up with your girlfriend, i'm bored," Grande's persona absolutely opposes her character on "imagine." The dense, assertive beat holding up Grande's message made obvious by the title of the song confirms Grande's evolution from a guiltless, surveyed, surviving star into a self-proclaimed queen.
It is much appreciated that Ariana Grande made a conscious effort to establish some sort of cohesiveness and theme throughout her album, unlike other contemporary pop artists. However, the topic of choice, being the maturation from a perplexed celebrity into a dominating, unstoppable figure in the news, comes off as egotistical. And as stated before, this subject only snowballs in prevalence as thank u, next persists. Even so to a point where the listening experience brings nothing but pure annoyance. The last three songs on the album exemplify this claim profusely. The title track, which spent seven weeks atop the Billboard Hot 100, "thank u, next," conveys Grande name-dropping previous celebrity exes and their "influences" on her future. Ultimately, the track mirrors the plot of a corny teen-drama about a young girl who believes that the whole world revolves around the actions she has made in the past. And the most notorious song of them all, "7 rings," goes beyond Grande establishing herself as superior to any individual or obstacle she encounters. The song serves as a prime example for the effect that being renown has on an individual's confidence and decision-making strategies. Beyond disregarding the well-being of anyone but herself, Grande cheaply samples the melody of Julie Andrews' respectable "My Favorite Things," along with Soulja Boy Tell 'Em's infectious flow from "Pretty Boy Swag" and Beyonce's rapping style on "APES**T." Sampling in music is an accepted practice, but when it is done without acknowledgment or esteem for the original artist, disgrace is cast upon the sampling musician. Even if Ariana Grande were to be mindful of these samples, the self-absorbed mood that penetrates the overall album remains the principal factor responsible for the judgmental opinion on thank u, next.
Fanatics' massive appeal for both this egocentric album and the self-absorbed Ariana Grande just go to show that the current world is in desperation for some quality entertainment.