By Thomas Edson
Staff Writer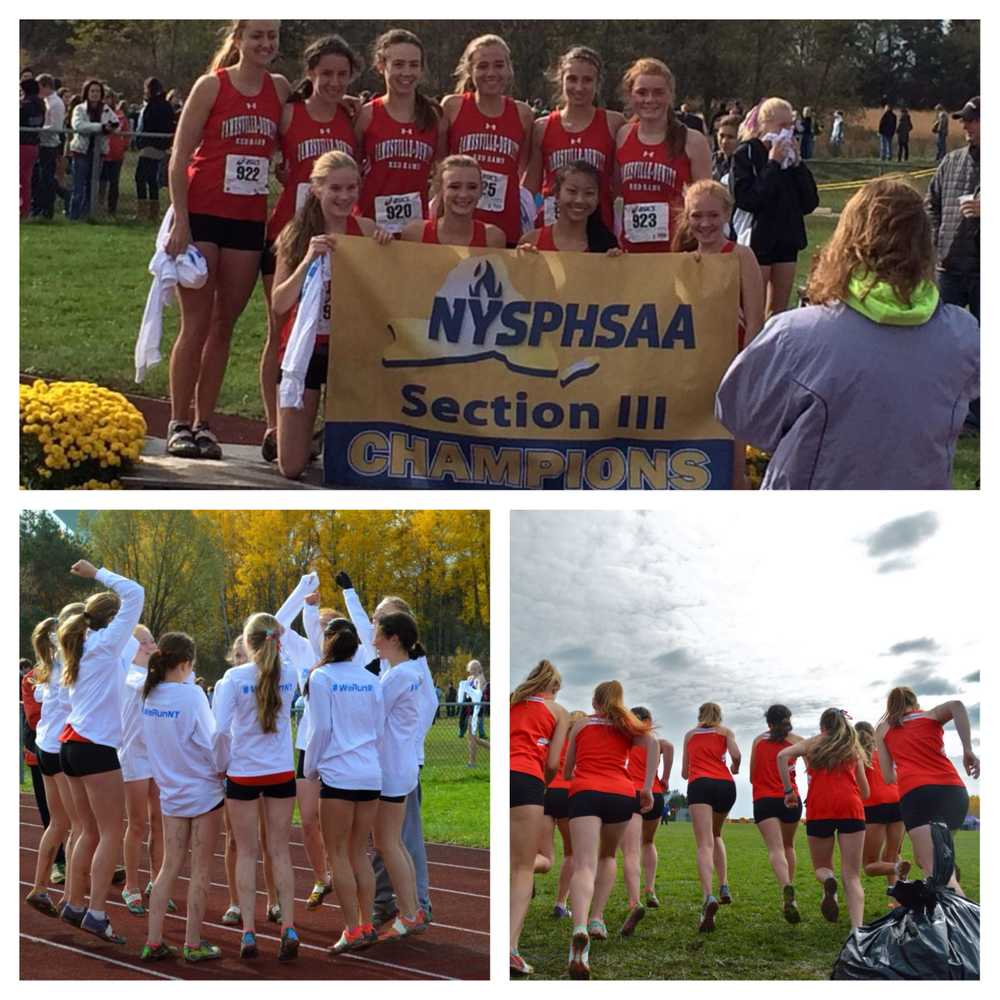 Girls XC:
The Jamesville-DeWitt Varsity Girls Cross Country team is continuing their tradition of dominance this season with an undefeated regular season record of 8-0, and a sectional championship. The girls team joins Varsity Girls Soccer and Varsity Gymnastics as the three undefeated fall sports teams at J-DHS. "(Being undefeated) is really awesome because we know our hard work has paid off and it brings us together as a team," said sophomore Hannah Butler. "(The undefeated season) was expected because we usually dominate the other teams, at least during my time here," said senior co-captain Rachel Fairbanks.
What might not have been expected was their dominance at sectionals, which was held Nov. 1 at Vernon-Verona Sherrill High School. Before the competition, senior co-captain Samantha Jaffe said that it felt "good to win as a team and make it to sectionals." Sophomore Alexandra Street agreed; "I'm happy and we are really hoping that we can win this year and go to states," said Street.
The team was represented in sectionals, and will be represented in states by Brown, Butler, Jaffe, Fairbanks, Pomeroy, Street, and Walsh along with junior Catherine Keane, and freshmen Ayla Erwin and Alisa Salbert. The 10 girls who raced in sectionals all advanced to states. "(Going to states) is really awesome because we are going as a team. We were expecting a couple of us to get this far individually, but the fact that we can go together makes it a lot better," said Butler. The girls will be racing in Canton, N.Y. on Saturday, Nov. 8.
With expectations set at an undefeated season in August, the team had a few big challenges to overcome. The team was hit hard with injuries to multiple runners. Freshman Megan Brown, sophomores Hannah Butler and Emily Pomeroy, juniors Kelsey Kissane and Kimberly Walsh, and senior Rachel Fairbanks all were injured at some point in the season. Some of their better runners also switched to a different sport for the 2014 fall season.
Boys XC:
The Jamesville-DeWitt Varsity Boys Cross Country team wrapped up an undefeated regular season on Oct. 18, and the team sent their 10 best runners in sectionals on Nov. 1. Varsity Boys Cross Country joins Varsity Girls Cross Country, Varsity Girls Soccer, and Varsity Gymnastics as the only fall teams to have an undefeated season for J-D. "You feel accomplished that you are a part of (an undefeated season)," said freshman Markos Petkopoulos. "It feels pretty good," said senior Austin Philleo, who shares this feeling with many of his cross country teammates.
Finishing the season hasn't been a walk in the park, however. "One of the most difficult things is that most of the kids on the team are not year-round runners, so they come into the season with little or no experience and have typically not run most of the summer," said Head Coach Emily Rowles. Petkopoulos agrees with Rowles, saying that the hardest part for him was the beginning of the season because he hadn't run in a while. The team also faced tough competition in teams such as Marcellus and Chittenango.
The hard work this season prepared J-D's 10 best runners for sectionals. "All the guys that are going [to sectionals] are experienced and we have a strong team and unit so hopefully we can pull it together for sectionals," said Philleo.The team was represented at sectionals by Dye and Philleo, along with freshman Samuel Glisson, sophomore Tyler Glowaki, juniors Miles Chandler, Matthew Salbert, and James Pieri, and seniors Troy Kilian, Matthew Murad, Austin Philleo, and Brady Wing. Salbert looked forward to running with Section III's best. However, sophomore Patrick Dye looked past sectionals and achieved his goal of making a run to the state championships. "(Going to states) feels good because I put in a lot of hard work," said Dye. Dye's goal for states is to finish in the top 15 runners. He will race in Canton, NY on Saturday, Nov. 8.
Despite all the hard work and effort that comes with running cross country and making sectionals and states, both the girls and boys teams did have fun through the season. The team signed up for a race on Manhattan Island and stayed there from Oct. 10 – Oct. 12. They finished 10th of 21 teams at the race. "It was a lot of fun with the guys and it was a good experience for everyone, even people who had been there before," said senior Padraig Hagan. While on the trip, the boys and girls teams also visited the Palisades Center and walked across the George Washington bridge.