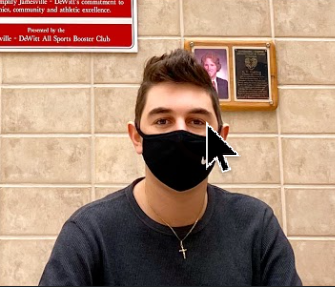 Meet Faisal Alamir, he's a sophomore from Syria. He has spent four months in Syracuse so far and is here with his family, including his mom, dad, and two sisters. His family's choice to come to America, nonetheless Syracuse, was influenced by his uncle and grandfather already living here. The hardest part for him was leaving his friends, who he misses dearly.
The journey into this new country was very different. There were new foods, and the culture was very different from his own, of course. Coming into this country he felt that it was huge with a lot of people, but he found strength through his godmother, saying, "She helped me a lot." Not only that, his greatest source of joy is his family.
But Alamir has also experienced some unwelcoming people. But he doesn't let that get in the way of his happiness with starting a new life. As advice, he shared to anyone moving here: "Living is better and education is better." He values his education, so he believes learning will make this process even easier for him.
In Syria, the most celebrated holiday is the New Year. Alamir likes to celebrate by playing the Playstation and eating spicy foods. His local language is Arabic and he says "malhaba," meaning "hi."