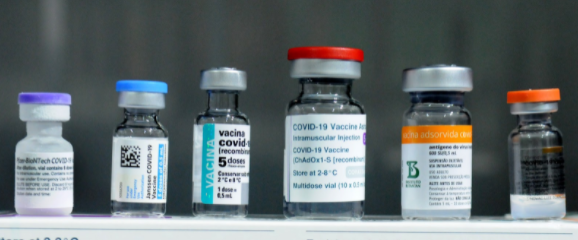 The Food and Drug Administration (FDA) recently announced they have authorized COVID-19 booster shots for both Johnson & Johnson and Moderna. This comes from a unanimous vote from a committee of independent advisors that support the decision. The emergency authorization includes the mixing and matching of vaccine brands. This authorization comes almost a month after booster shots for those that have received the Pfizer vaccine were approved.
This authorization is in revision to the previous authorization of the Pfizer-BioNTech booster. The FDA made it very clear that people do not have to get a third dose of their original shot(s), making it so you can mix and match vaccines. For example, if you originally got Moderna or J&J, those can be boosted with a Pfizer shot.
But in the case of mRNA booster shots, there are limits. In order to receive a booster shot when your original shots were Moderna, one must wait no less than 6 months after their second shot. Johnson & Jonhson has a similar but less timely guideline stating that you cannot receive a booster until 2 months after the initial one-dose shot. Even with those guidelines of availability, it is still slim with the CDC stating only certain individuals whose original doses were Moderna or Pfizer can receive the boosters. This includes those 65 and older, those 18 to 64 with an underlying disease or condition that puts them at risk of developing severe illness if they catch COVID, and people aged 18 to 64 whose jobs or living circumstances put them at high risk of contracting COVID. Healthcare professionals, teachers, and those living or working in homeless shelters or prisons are included in the list of professions that can receive mRNA boosters. On the contrary, everyone who received the initial one-dose Johnson & Johnson is recommended for a booster dose.
The FDA doesn't have full authority to finalize this approval; this booster strategy rests in the hands of the Centers for Disease Control (CDC). The CDC must sign off on this plan before it can be finalized as a U.S. policy. The CDC's expert panel on vaccines, the Advisory Committee on Immunization Practices (ACIP), will meet to discuss the booster authorizations soon, and will make recommendations to CDC Director, Rochelle Walensky. In order for the policy to be put into action, it requires Walensky's signoff.
Acting FDA Commissioner Janet Woodcock says, "The available data suggest waning immunity in some populations who are fully vaccinated,". Along with quoting, "The availability of these authorized boosters is important for continued protection against COVID-19 disease." This approval will give all U.S. states flexibility needed to speed up vaccinations. This is due to the fact that it effectively allows healthcare workers, specifically vaccinators, to bring one brand of vaccine shot to a specific location like a nursing home, rather than having to bring multiple brands and having to go through the process of figuring out which brand each person initially received.
On the contrary, Woodcock acknowledges that messaging the sizes of the boosters and the size of the doses, could be confusing the public – the Moderna booster shot contains only half the antigen of an original shot. She also explained how both healthcare providers and pharmacies will be given charts to help keep track of things. Peter Marks, director of FDA's Center for Biologics Evaluation and Research said on a call with reporters the evening the statement was released "Although it is not simple, it is also not utterly, hopelessly complex." Marks also noted that the FDA is keeping an eye on specific data on breakthrough infections. This data, if yields the proper results, could soon lower the age at which adults become eligible for a booster, regardless of their health conditions or occupational exposures to COVID.
Many studies funded by multiple different health-related organizations have suggested that using different types of vaccines yields the possibility to create a better and more long-lasting immune response against the virus. A study funded by the National Institutes of Health recently revealed that this point appeared especially true with the J&J vaccine, following the initial dose with a dose of one of the messenger RNA vaccines (Pfizer or Moderna) showed substantially higher COVID antibody levels.
Despite some discussion at a meeting held before the approval by the FDA's vaccine advisors, the Vaccines and Related Biological Products Advisory Committee (VRBPAC), the FDA didn't designate that people who got the single-dose J&J vaccine should receive an mRNA shot over another J&J shot. Instead, they suggested that those who got the J&J shot should try to get a Moderna half-booster or a full dose of Pfizer if they deem it necessary. Similarly, those who got one of the mRNA vaccines in their initial series can choose to get the J&J booster, or one of the mRNAs.
It remains to be seen if the Centers for Disease Control will take the FDA's recommendation a step further by granting it full-approval, persuading those who got the Johnson & Johnson shot to get an mRNA as a booster. The CDC has shown concern for quite some time about the situation people who got the J&J vaccine are finding themselves in, given that the single-shot is known to be less effective than the mRNA vaccines against all strains of COVID-19.
If the CDC will back the FDA's decision on boosters is still up in the air, but will be determined within the next week or so. For now, those eligible can sign up to receive their booster shots in most locations that administer vaccines. Most Walgreens and Cvs's across the nation carry the booster shots for anybody interested, and are eligible to receive them.