By Liv Byrnes and Emma Carr
Staff Writers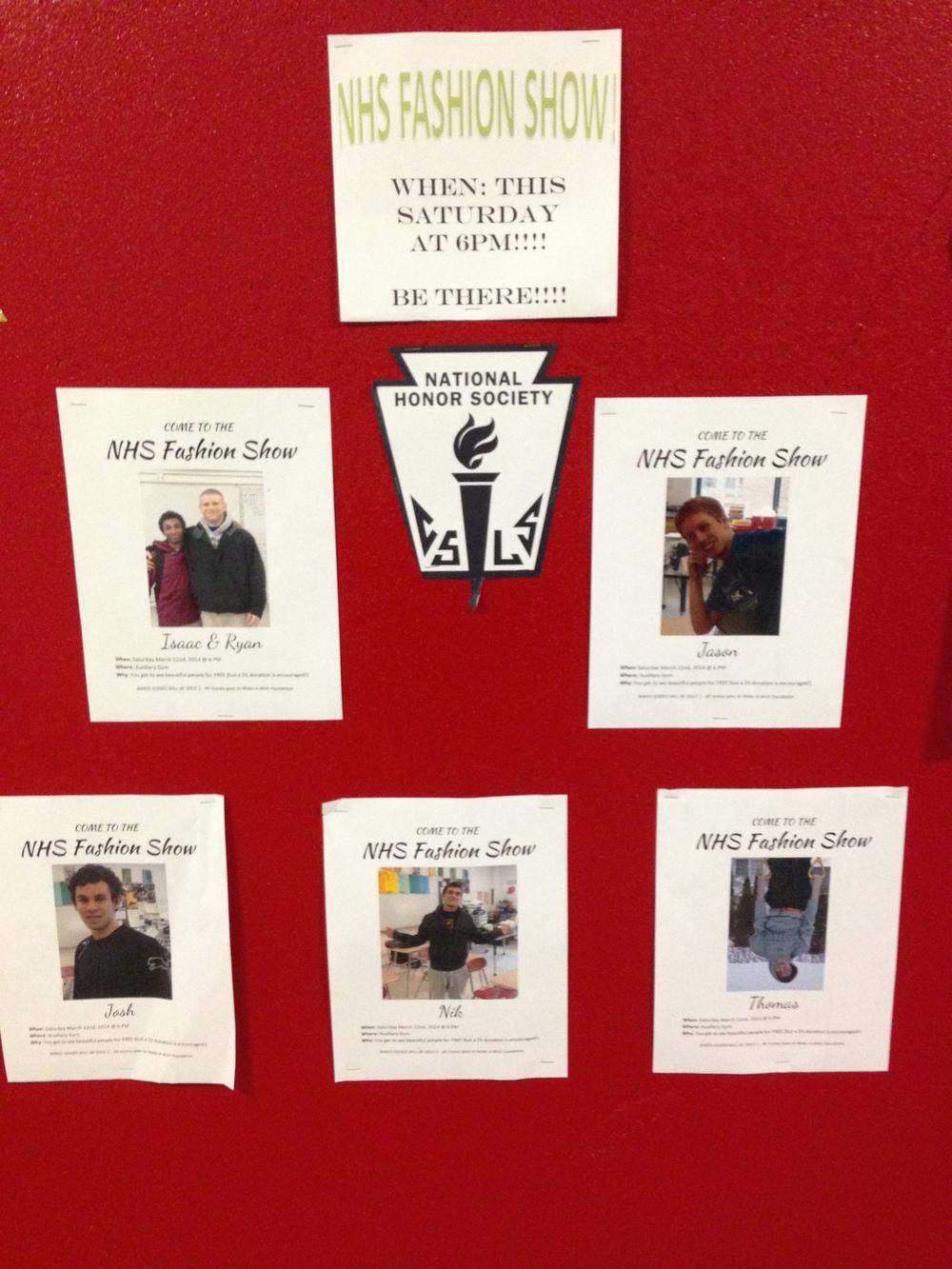 Were you there to see Jamesville-DeWitt High School students strut their stuff at the second annual fashion show? This event was held by the National Honor Society on March 22 to raise money for the Make-A-Wish foundation.
NHS asked for a pair from each of the underclasses to volunteer to participate in the fashion show alongside the seniors from NHS. They asked the underclassmen as well to attract their fellow underclassmen, explained the NHS adviser Diane Ennis.
Students who were in the show modeled both casual and formal outfits down the catwalk, which were provided by Men's Wearhouse, J Michael's, and Boom Babies free of charge for the show. "All the companies were very nice, easy to work with, and willing to help out," said senior Olivia Cargian, secretary of NHS. Formal wear consisted of clothes such as prom dresses and tuxedos. "I had an outfit from J Michaels which was mostly Vineyard Vines," said senior Griffin Johnson about his walk down the runway in casual wear. "The casual wear was really cute and hipster," said freshman Bess Murad. "I would buy some of (the outfits) because the clothes were different and they weren't what people usually see," said junior and participant Emily Hauser.
J-D may not have used professional models but everyone in the show had a great time participating."I had a really great time doing the fashion show, not only strutting my stuff, but being able to dress to impress in front of all those people was really a great time," said Johnson. "It was fun, but I was the youngest one there. I think it will be more fun when I know more people in the show, but it was a good experience,"said Murad. "It was weird being the youngest one but I got to meet a lot of people and wear clothes that I wouldn't usually wear," said freshman Thomas Edson. "It was a great experience it really built my confidence up," said sophomore Reed Jaworski. "I was a little nervous because of the upperclassmen like Griffin Johnson and David Antosh but as soon as I put on the nice clothes I felt confident and ready," he said. "I felt scared and nervous but the other underclassmen like Bess and Sam made it a little less uncomfortable," said Hauser. "I was a little bit embarrassed to be the youngest but it was fun and fine overall," said sophomore Samantha Leavitt.
The audience was also important to this event. Not only were they there to support their friends and Make-A-Wish, but also themselves. "The clothes looked really cool, especially some of the prom dresses," said junior Amber Hyatt.
Treasurer Kyrin Pollock suggested the idea of Make-A-Wish because of a young girl who she brought in to speak to NHS for inspiration. Make-A-Wish raises money for research in childhood cancer and helps them achieve their dream. NHS voted for a foundation and ended up choosing Make-A-Wish because they thought it was for the best cause. In total they raised $600 through donations given at the door.
"Overall the fashion show was a success and I think many people were pleased and entertained," said senior Maggie Austin, vice president of NHS.