Jennifer Setek '22
Original recipe by Butternut Bakery- https://butternutbakeryblog.com/cookie-dough-cake/
Cookie dough may be one of the most delicious "desserts" in the world. Whenever anyone makes a batch of cookies, it's almost a guarantee that they will lick the creamy goodness left on their fingers, or if you're like me, grab a spoon and dig in! I was offered the chance to bake a fellow cookie dough lover a birthday cake, and I knew that I couldn't pass the opportunity to create what I like to call a "dream cake". With blobs of edible cookie dough baked into the cookie dough batter, this cake will have you questioning, "Where have you been all my life?" Your taste buds will be dancing, creating a party in your mouth with what tastes like a slice of cookie dough dipped in chocolate. What else could you possibly ask for?
To make this beauty of a cake you will need the following ingredients: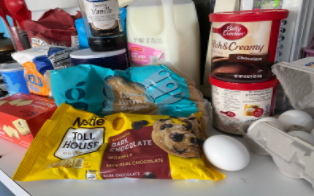 Main Components:
Unsalted butter
Granulated sugar
Light brown sugar
Vanilla extract
Milk
All-purpose flour
Salt
Chocolate chips (mini are recommended, but I still used normal sized)
Cookie Dough Ingredients:
½ cup of unsalted butter at room temperature
½ cup of granulated sugar
⅔ cup of packed light brown sugar
¼ cup of preferred milk
2 teaspoons of vanilla extract
2 cups of all-purpose flour
½ teaspoon of salt
1 cup of chocolate chips
Cake Ingredients:
1 ½ cups of unsalted butter at room temperature
2 cups of sugar
3 large eggs
2 teaspoons of vanilla extract
3 cups of all-purpose flour
2 teaspoons of baking powder
1 teaspoon of salt
1 cup of preferred milk (whole milk is recommended)
½ cup of plain greek yogurt, or sour cream depending on what you have on hand
1 cup of chocolate chips
Cookie Dough Buttercream Frosting Ingredients:
1 ½ cups unsalted butter at room temperature
5 cups of powdered sugar
1 cup of all-purpose flour
¾ cup of packed light brown sugar
¼ cup of milk
2 teaspoons of vanilla extract
½ teaspoon of salt
½ cup of chocolate chips
Chocolate Ganache Ingredients:
4 ounces of chopped bittersweet chocolate
4 ounces of heavy cream
2 to 3 teaspoons of vegetable oil, or whatever oil you prefer to use
I personally chose not to make the frosting or ganache. I was under a bit of a time crunch when it came to making the cake and wanted to focus more on the cake itself, plus I have always preferred store bought frosting so it only felt right to use it instead.
Now for actually making the cake.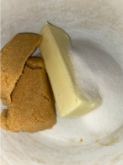 Making the Cookie Dough:
Using either a stand mixer, or hand held (using a normal whisk will be quite hard throughout this recipe) cream together the butter, light brown sugar, and granulated sugar.
Add in your milk and vanilla extract, then mix until it is well combined.
Slowly mix in your flour and salt.
Fold in your chocolate chips.
Scoop ½ tablespoon-sized balls and flatten them out slightly on a lined plate. You'll need 15 of these balls for your cake, so this should make enough dough plus extra that will be used later.
Place cookie dough balls in the fridge while you prepare the cake.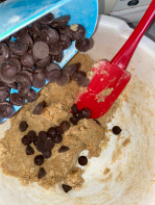 Making the Cake:
Preheat the oven to 350°F and spray/prepare three 8-inch round baking cake pans.
In a small bowl, whisk together the flour, baking powder, and salt, then set aside.
In a measuring glass, add the milk and vanilla, then set aside.
In a large mixing bowl, using an electric mixer, cream together your butter and sugar. Mix until this combination gets fluffy and light. You will want to be mixing for 3 to 5 minutes. You must not skip this step!
Slow down your mixer, and add the eggs one at a time. Make sure to fully whisk one egg in at a time before adding the next.

Mix in the yogurt.
Grab your flour and milk mixtures, and alternate between adding each the mixtures. Make sure to start and end with the flour mixture.
Mix in the chocolate chips.
Evenly divide your batter into the three baking pans.
Take out your cookie dough and push down five patties into each cake pan.
Make sure you cover the cookie dough with the batter so you can't see the patties.
Bake your cakes in the oven for 30 to 35 minutes, and check with a toothpick to ensure your cakes are done.
Let the cakes cool in the pan for 20 minutes.
Transfer the cakes from the pan to a plate, and let it chill in the fridge for at least one hour before frosting, in order to avoid cake breakage.
Making the Frosting (not mandatory):
Cream together the butter and brown sugar.
Gradually mix in the powdered sugar and the flour, around two cups at a time. Between each addition, pour in the milk.
Add in the vanilla and salt.
Making the Chocolate Ganache (do this after you assemble the cake)
Measure your chocolate and put it to the side.
In a measuring cup, pour in your heavy cream and heat it in the microwave for a minute or so, or until it starts to bubble.
Pour the hot cream over the chopped chocolate and whisk until smooth. To thin out the mixture, add in the oil.
Immediately pour over the center of the cake and smooth out with a spatula.
Now you can add the extra cookie dough left over from making your patties as a crumble on top and you're done!

Honestly, this recipe was so much easier than I thought it would be. I'm not sure if this was because I only made the cake and not the frosting. No matter, I am counting this recipe as a big win! I did not have any difficulties making the cake itself, I just found it somewhat time consuming. However, I think that only makes sense as baking in general takes time. I found it nice that the cookie dough and cake were made up of mostly the same ingredients, making clean up very simple as you only had to put away the few ingredients that were used. It still was a messy process though, the most messy part being whisking the butter and sugar together. It flew all over the place, but I found this was partially because of the size of my bowl and maybe even the type of mixer I was using. Nevertheless, the mess is worth it. The cake turned out to die for! I had people telling me this was a recipe I had to make again and fast, without even having tried the cake! It is dense, rich, flavorful, and flat out scrumptious. If I could only recommend one recipe, I would have to say this one, with no regrets!