Contributing Writer Jennifer Setek, '22
Recipe by joyfoodsunshine https://joyfoodsunshine.com/healthy-peanut-butter-granola/
Not peanut free, can be vegan!
Granola seems to be a universal food that many turn to for hearty breakfast, snacks, and delicious add-ins to bring a satisfying crunch to yogurt, baked goods, and desserts. Granola is full of good whole grains/oats, nuts, honey and dried fruits at times, and other preserved foods. Personally I have recently found joy in the granola craze, and wondered just how easy is it to make myself at home. Turns out homemade granola is one of the simplest and most delicious recipes I have made! I decided to follow Joyfoodsunshine's recipe for Peanut butter granola, and I don't regret it one bit.
Ingredients
-2 cups old-fashioned oats (although quick cooking oats work just fine)
-½ teaspoon of ground cinnamon (you can really add any of your favorite seasonings like pumpkin spice or even cocoa powder to make this recipe chocolate peanut butter granola!)
– ¼ teaspoon of sea salt (I have realized that if you are using salted peanut butter you may even want to use less)
-6 tablespoons of peanut butter (I used crunchy peanut butter, but creamy works beautifully as well. If you prefer a different nut butter instead, you can substitute that for the peanut butter)
-¼ cup honey or maple syrup (I went with the maple syrup, which does make this recipe vegan!)
-½ teaspoon of pure vanilla extract
And that's it! 
How to prepare the dish
Next is the process of actually making the granola, which didn't take as much time as I was expecting it to.
1.To start off, you must preheat the oven to 325 degrees F, and grease a large cookie sheet.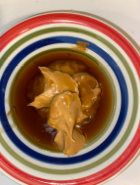 2. In a bowl, mix together the oats, salt, and cinnamon.
3. In a microwavable dish (or on the stovetop) melt your peanut butter (or alternate nut butter) with your honey or maple syrup.
4. After you mix the peanut butter and choice of sweetener, mix in your vanilla.
5. Next add in the wet ingredients with the dry, and mix (I just added the whole wet mixture in at once and once more mixed with my fork, but to make sure your batter is fully mixed you might want to consider using your hands).
6. Then spread out the granola on your prepared baking sheet (making sure the mixture is flat and evenly spread) and bake it for 15-20 minutes.
7. Take it out of the oven and let it cool , then break apart and enjoy!
And just like that you have made yourself peanut butter granola!
I found this recipe to be super easy, both for making and cleaning up. It roughly took me about an hour for the entire process (including the cool down) and had very little to prepare, which makes it great for beginners. The ingredients are all easy to find household items for many, but if you don't have them in your house each ingredient is quite cheap. In short I would say that this recipe is a hit. It makes a generous amount of granola, it forms the best clusters, and pairs well with many different foods as well, plus it is filled with non processed ingredients which helps you to feel your best! I would definitely recommend this recipe!
Tips I discovered while making this recipe:
– instead of spraying your cookie sheet, you can put a layer of parchment paper down.
-Using a whisk is a bit harder to mix the granola because everything gets stuck inside the whisk, so I just used a fork instead.
-I baked it for 20 minutes to insure a golden brown color on the top.
-I let it cool for around 30 minutes.
-When microwaving the peanut butter and maple syrup,  I placed my mixture in the microwave for 30 seconds, and checked on it halfway through. I let it melt for a total of 45 seconds.