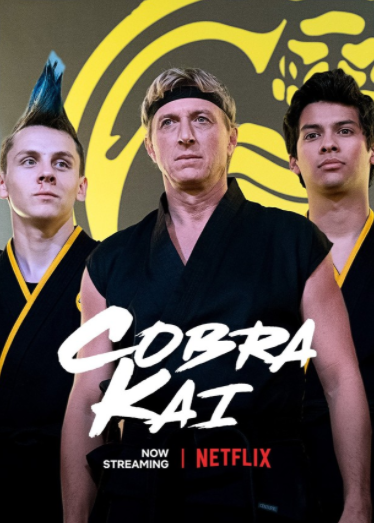 Warning: Spoilers for Cobra Kai
Netflix's Cobra Kai began simply as a successor to The Karate Kid, in which the main hero and main villain are now depressed middle-aged men who start karate dojos. What was once an exciting yet formulaic teen dramedy (drama-comedy) has spiraled into a massive phenomenon. In Season Four, the two main characters, Daniel LaRusso (Ralph Macchio) and Johnny Lawrence (William Zabka) have combined their dojos (Miyagi-Do and Eagle Fang, respectively) to combat the sinister Cobra Kai dojo, led by John Kreese (Martin Kove) and Karate Kid 3's main villain, Terry Silver (Thomas Ian Griffith).
The show has always played out like a soap opera, and Season Four is no exception. Expect dramatic betrayals, plot twists, and mind-blowing reveals. However, the show also took inspiration from soap operas with its weak script and subpar acting. These factors work in a positive way for Cobra Kai, as they help ratchet up the absurd, unrealistic tension. The show doesn't try to be realistic. Highlights have included making kids jump across the rooftops of multiple-story buildings, committing many crimes, framing others for committing said crimes, and a very interesting plotline where Daniel and Johnny beat up local criminals in a warehouse. All of these horrendous deeds are okay because of karate!
The new additions to the show add many layers this season. Kenny (Dallas Dupree Young) starts as a kind, quiet kid who gets picked on at his new school, but when he joins Cobra Kai to learn self-defense, he begins a downward spiral that his mentor Robby Keene (Tanner Buchanan), an already reluctant member of the dojo, begins to feel intense guilt about. Who bullies him? Daniel LaRusso's son, Anthony (Griffin Santopietro), of course. In the past, his role in the show has been sitting in the background, but he becomes an interesting and layered character as the season progresses.
The returning characters are stellar as always. Hawk (Jacob Bertrand) was formerly Cobra Kai's resident tough guy, but at the end of season three, he rejoined the good guys after he helped his former best friend Demetri (Gianni DeCenzo) during a fight. We've all been there, am I right? His confidence is shaken halfway through season four, and he works to build it back in one of the show's most sympathetic arcs. Tory (Peyton List) becomes a more sympathetic character. Robby also becomes a more sympathetic character, and even Cobra Kai's John Kreese improves in this way. A whole lot of sympathy this season. Miguel (Xolo Maridueña) doesn't do a ton all season but is tremendous in a truly heartbreaking moment at the end of Episode 8 with his sensei, Johnny.
The pacing of the show is as fast as the karate fights. Each episode keeps you on the edge of your seat, even in the slowest of scenes. The tension is always building, and the end-of-episode cliffhangers make you want to watch the show all in one sitting. With so much emphasis on plot twists, some characters slip through the cracks. Kenny's journey is overshadowed by other plotlines, and Demetri has reduced to a few one-liners an episode. This season does one thing the others haven't: it brings back old characters. Aisha, arguably the highlight of Season One, gets a brief but pleasant scene with Samantha LaRusso (Mary Mouser), and Season Two's comic relief character, Stingray (Paul Walter Hauser), comes back in the last few episodes, for a surprising role that no one could have expected.
Speaking of comic relief, Season Four does an excellent job of using humor to draw viewers in. One of the funniest scenes involves Johnny Lawrence, who believes in "manliness" and barely knows what a computer is, going to a girls sports team practice in the hopes that he can recruit the dojo's first female member. Miguel, who often serves as the heart of the show, makes a great partner in crime to Johnny, playing the straight man in comedic situations like these. The thing about the show is that it's hard to tell how much of it is the creators poking fun at themselves and how much of it they genuinely think is good writing. They occasionally make meta jokes about the absurdity of previous events, but they continue to write similar events to those.
Cobra Kai is a lot of things: hilarious, dramatic, too serious, not serious enough, over the top, grounded, absurd, practical, unintentionally bad, intentionally bad, intense, and lighthearted. It's an oxymoron of a television show. In spite of all of this absurdity, Cobra Kai is without a doubt the most "OH MY GOD!" show on television today, and I will certainly be tuning into season five.