By Griffin Johnson and Chris Wood
Editors-in-Chief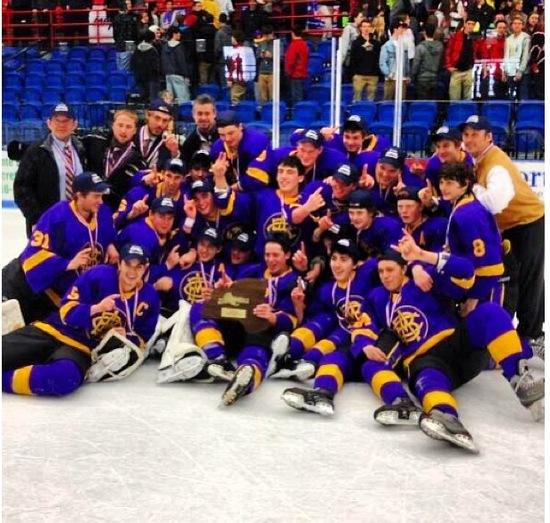 On Sunday, March 11, the Christian Brothers Academy/Jamesville-DeWitt High School Hockey team captured their first ever New York State Division II Championship by a score of 4-2 over John Jay High School.
The boys achieved victory in their usual come-back fashion, although they got out to a quick start. Jamesville-DeWitt High School sophomore and assistant captain Ryan Durkin scored an early first period goal for the Brothers. John Jay responded with a goal after a power play and then scored their final goal on a breakaway with less than 10 seconds remaining in the period, giving them the lead and momentum heading into the locker room before the final period.
When the brothers went into the locker room, they were frustrated over how the last few minutes panned out. "We were kind of upset of how it unfolded, but we knew we could do it from the semi-final game; we were down two and we came back. We knew we could get it done," said Durkin. Sophomore forward Braedon Doust knew that an early goal was going to be crucial and would allow them to gain momentum.
Doust was able to put his thoughts into action when he scored one minute into the third period, Doust tied up the game on a power-play goal, quieting the John Jay fans with a single finger to his mouth in celebration. Minutes later, Doust found the net again and scored the go-ahead goal. All the Brothers had to do was hold the Indians off.
With under two minutes remaining in the game, John Jay decided to pull their goalie to give their team a better chance to score, but sacrificed an open net. The Brothers quickly took advantage when CBA sophomore Drew Brooks scored on the open cage to seal the deal for CBA/J-D. It was then that the Brothers realized that victory was on the horizon.
When the final buzzer sounded, the Brothers stormed the ice and dove into the purple pile. "To tell you the truth I don't really remember it. Adrenaline was just pumping and I just skated full speed towards everyone and just jumped. It was awesome," said Burns. Junior forward Ryan McKee said, "I threw my gloves up in the air. It was indescribable."
But, the pile came with a price, although most didn't mind it; "I was at the bottom of the pile; (I felt) pain and joy. Some skates digging into my arms and legs but the pain was worth it," said senior captain Scott Firman. McKee had the same experience as Firman. "My leg was stuck and I was trying to get it out. On the inside I felt good," said McKee; "(It hurt) But we were all laughing."
Sophomore center and assistant captain Ryan Durkin and freshman defender Grayson Burns had the same phrase to sum up the season: "a Cinderella story." The team started off the season with a record of 1-6 and didn't have much hopes for a successful season. "We were down on ourselves, but we had a couple of win streaks, and got to the playoffs, and we knew had a tough road, but we were able to get it done," said Durkin. Burns said, "I think at the start of the season we struggled. We were all acting as individuals, and didn't play as a team. Once playoffs started we really started to click and that helped us a lot."
Firman also didn't imagine such a storybook ending when the season started. "Going into the season, it sounds bad, but I never expected us to win sectionals. With the way we started it wasn't a realistic thought in my head. But, come playoff time we were hot and it became a thought in my head that we could go the whole way and we did," said Firman. McKee had his own take on the historic run. He said, "you can't write a book about that; it was legendary."
The Brothers' "legendary" playoff run began in the Section III tournament when they captured a first round win at Auburn High School. They then moved on to the semifinals where they defeated Skaneateles High School in a triple overtime victory to send them to the Section 3 Championship game. CBA/JD pulled out a comeback victory as they scored three goals in the third period to win the first Sectional Championship in CBA/J-D Hockey in over 30 years.
The Brothers opened up their state tournament play with an upset victory over one of the top ranked teams in the state, West Seneca West High School. The boys then advanced into the state semis against Beekmantown High School. They managed to pull off yet another comeback overtime win to head to the finals in storybook fashion.
On top of winning the NYS Division II Championship, many players received individual honors. Among them was Durkin; he was awarded First Team All League, First Team All-State, First Team All-Tournament, and New York State Division II Player of the Year. This award recognizes the best player throughout all of New York State for Division II Hockey. For his two goal performance, Doust earned the Most Valuable Player of the State Championship Tournament and also for his play during the regular season, he along with goalie Tim Decker and Defenders Sam Mueller and Jed Raby, received an honorable mention for the league. Firman was awarded second team all-league. Lastly, CBA/J-D Head Coach Mike Mckie won the New York State Division II Coach of the Year award.
For next year, the team is very optimistic about their chances to have another successful season. The team will return most of its players, only losing four seniors, with Firman being the sole starter. "It was an unreal experience and great to do it as a freshman and hopefully we can do it again next year," said Burns.