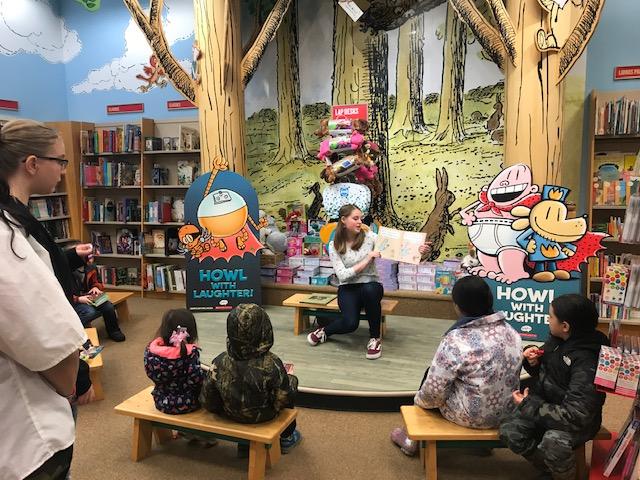 By: Sophia Stokoe, Elena Fitzgerald, Ms. Panek

The Book Club would like to thank everyone who came out and supported us during the most recent event that occured 3/10/2019, the Barnes and Nobles Book Fair. The event was indeed a success, and the club members thoroughly enjoyed volunteering for it. At the Book Fair, members hosted story time for the children as well as had a bookmark-making station with supplies such as ribbons and stickers. This year's fundraiser also generated more funds for the club than previous year had. The Book Club will be using the profits to buy newer and more exciting books when there aren't enough copies available in the library system.
The Book Club's goal is to encourage a love of reading throughout our school, and what better way to do that than to talk with friends about your favorite authors or about fascinating series that you've just finished? The Club also works toward this goal by getting members excited for events such as the Rosamond Gifford Lecture Series. In this event we attend a speech given by an author that we've read from before. Here, Book Club members are able to learn about the methods of well-known writers as well as their methods for inspiration. The Book Club has attended this lecture series for the past couple years, hearing from authors such as Maria Semple and Rainbow Rowell. We hope to be able to frequent this event again next year, either in the fall or the spring.
The Book Club usually meets on Mondays in the school's library. There will always be an announcement for each meeting on that monday morning. So far we have read interesting books such as Eleanor and Park by Rainbow Rowell, They Both Die at the End by Adam Silvera, and Lost by Margaret Peterson Haddix. For the avid readers out there or even just the casual readers, it is never too late to the join the club! We hope to see you at our next meeting!