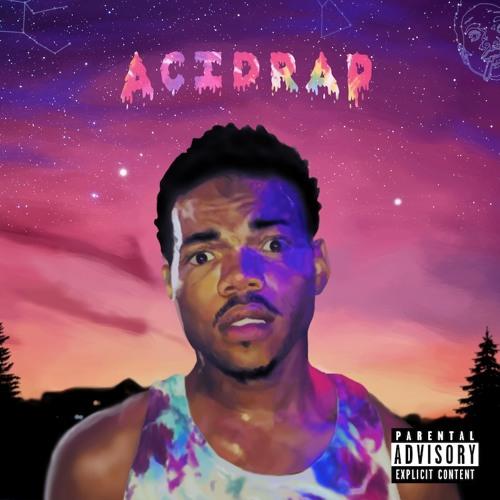 Acid Rap by Chance the Rapper
Opinions belonging to Luke Hobika
Best tracks: "Good Ass Intro;" "Cocoa Butter Kisses;" "Acid Rain"
Worst tracks: "NaNa;" "Smoke Again"
The perfect summer in Chicago can consist of events as unifying as backyard barbeques or those as tragic as shootouts in the streets. When living in the city, any next moment is not a guarantee. Chicago rapper Chance the Rapper showcases this reality on his 2013 mixtape Acid Rap. The blending of the genres of rap, jazz, funk, soul, and disco in the instrumentals of the album as well as the shifting moods in the lyrics create an abstract setting that mirrors the hectic nature of Chance's Chicago upbringing.
Acid Rap begins confidently with "Good Ass Intro" with a charming, evolving instrumental that reaches a climax at the end of the track. After entering with his squawking adlibs, which get redundant very quickly, Chance expresses how he is better than he ever was before through an abundance of alliterations and wordplay. Lines like "See them showing they teeth, that's just them flapping they gums/If they bite and I'm snapping, clap clap, collapsing they lungs" exemplify Chance's ability to identify those who threaten his success and combat them. It's the overarching theme of the album, one that Chance begins to build upon the following two-part track "Pusha Man/Paranoia." The former "Pusha Man" is an engaging half that portrays Chance living a tranquil life, acting like a fool. However, the dreary aesthetic and mourning lyrics of "Paranoia" deny what Chance initially presented himself as. He describes emotionally the dangers infested within the streets of Chicago that pose as a threat to all lives in poetic lyrics like "I heard everybody's dying in the summer/So pray to God for a little more spring." Following this path of recognizing the state of his reality, Chance reminisces about the days when his mother would bless his innocent self with kisses on "Cocoa Butter Kisses." Joining Chance and his lyrical-acrobatic skills on the track are rappers Vic Mensa and Twista, both of whom serve verses as positive and impressive as Chance's verse. This perspective of looking at what is rather than what isn't continues on "Interlude (That's Love)," which embraces the presence of love with Chance's soulful croons over a welcoming instrumental. With a mindset consisting of all of the ideas that these songs offer, Chance would be set up for enjoying a satisfying lifestyle. Yet Chance still has to determine how he will dig himself out of the drug-infested, sex-filled, corrupt neighborhood in which he was raised.
In an attempt to escape from his dismal position in life, Chance works off the obstacles that face him rather than running away from them. "Lost" tells an intimate tale between Chance and a woman with whom he does drugs. The two are not ideal lovers, but they accept each other's sympathy as they share a common experience. Their time together allows Chance to recognize the good, the bad, and the ugly that come out of using drugs. Using drugs is inherently detrimental to one's health, but Chance sees the mental benefits as superior to the health effects. This trend of introspection holds on the dejected "Acid Rain." A solemn instrumental consisting of rounded percussion and depressed strings blend perfectly with Chance's discussion of various topics. At one point, Chance admits the alleviation he gains from using drugs with the double-entendred line, "I trip to make the fall shorter." In the end, backed by restless snares and a living piano, Chance triumphantly claims his victory on "Everything's Good (Good Ass Outro)." He is heard acknowledging his idols while simultaneously asserting that he has changed for the better, consistently declaring "everything's good" to the listener during breaks in between self-assuring lyrics. 
If the album were to include those tracks alone, it would without a doubt own a respectable score. Yet the album's miscellaneous tracks, unbearable adlibs, and underwhelming guest features prevent that from happening. By no means the worst songs ever, songs like "Juice" and 'Chain Smoker" awkwardly exist on this album like trying to put a square peg in a round hole. Their placements do nothing but disrupt Chance's journey to reach the overall theme of the album, resulting in bumpy pacing. Additionally, Chance's yacking adlibs are hardly tolerable, even on the tracks that hold the most value. It is quite difficult to engage in the dirty south chorus of "Pusha Man" when Chance is incessantly rambling in the background, "NANANANANANANA." The adlibs reach a point of mockery on the unfortunately titled track "NaNa." Chance on the chorus mimics the childish tauntings of a toddler sneering "Na na na boo boo!" Rapper Action Bronson makes an appearance on the track but provides a verse that only adds to the useless foolishness of the song at this point in the album. Rappers Childish Gambino and Ab-Soul also put forward pathetic verses. Gambino's lyrics and flow on "Favorite Song" are identical to the amateurish and mediocre style that a high-school-wannabe rapper brings. On the needless "Smoke Again," Ab-Soul utters the album's most embarrassing lyric, being "Yeah, them n**** pissed, need potty training/They movement s***, that's a potty train." The adlibs, guest features, and pointless tracks ultimately represent the flaws of Chance that he still bears even after his triumphant close. Yet Chance the Rapper comes out of Acid Rap alive to live another day, gaining for what he had hoped: a better quality of life.