Sydney Balotin and Grace Evans '22

As the weather gets warmer and summer gets closer, Jamesville-DeWitt High School students begin to look forward to a well-known spring tradition. This tradition is J-D Day, which teachers and students describe as one of the best days of the year. "It's a break from the monotony of preparing for finals," said social studies teacher Ms. McGee. J-D Day will be held on Friday, May 24, 2019 from 11:45 am to 2:15 pm.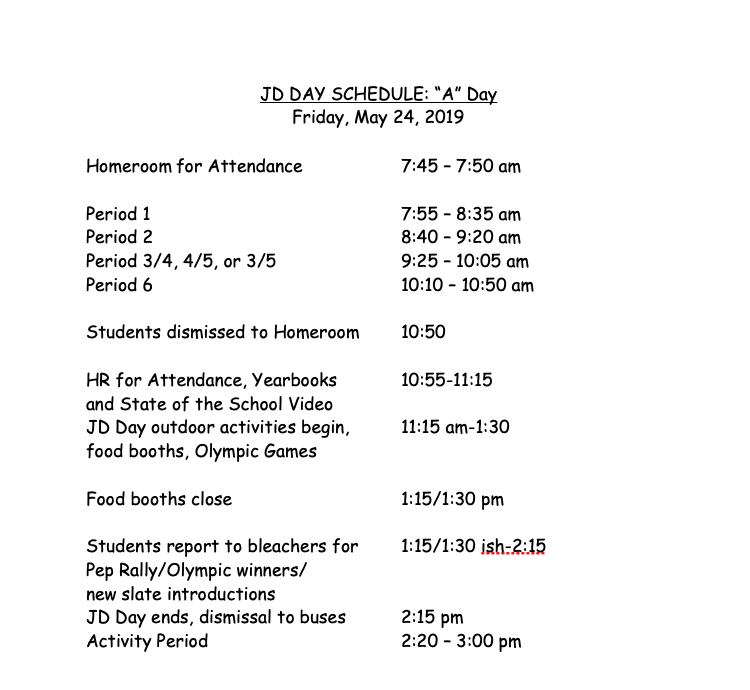 Although there are many enjoyable aspects of the day, most students look forward to the schedule change. To make room for J-D Day, Friday's classes will be cut in half. "I'm very excited to not be in class and see all the fun things that are going to go on," said freshman George Grigorian.

J-D Day offers a variety of activities for all types of students. These activities are compiled into one large competition known as the Class Olympics. In these Olympics, each grade will compete against the other in multiple events. "We do kickball, Mario Kart, sidewalk art, scavenger hunt, and corn hole," said sophomore Linda Shen. "Mario Kart Wii is awesome but in sidewalk art, you can draw anything," said freshman Anthony Cawley. To sign up for the Olympics, please check in with student government officers during lunches, or see Mr. Mcintyre in room B01.

Another unique thing students and staff can take part in is Ram Jam. "It's basically people who want to perform in front of the school and show off their musical talents," said Shen. Last year, students had the pleasure of hearing Sun Drop Rise play, which is a local band featuring Mr. Blumenthal playing saxophone and Mr. Berger playing guitar.

All of these activities often cause students to work up quite an appetite. Therefore, many clubs will be selling food during the day. Food is purchased with 50 cent equivalent tickets, which a student must buy prior to J-D Day.

Also taking place during J-D Day are the schoolwide slate elections. Although there is only one slate currently running, the members still work hard to persuade other students to vote for them. This slate consists of Co-Presidents Eva Wisnewski and Alex Pomeroy, Vice President Nic Kemmis, Secretary Marcus Payne, Treasurer Linda Shen, and the DLC's Josh Aitken and Lucy Heflin. "We're trying to get more student spirit because we want everybody to have a good time," said Aitken.

J-D Day is the perfect way to wrap up another eventful year here at J-DHS that you won't want to miss. In addition, students who ordered a yearbook will receive them. As Shen said, "It's a great way to end a hard working year." We hope to see you there!