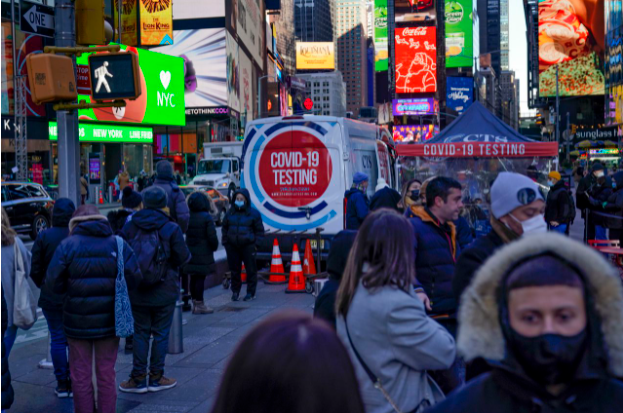 Monday, 12/20/21
On Monday, December 20, a man was shot in the leg in a parking garage of Destiny USA around 11:57 a.m. It is said he was shot during an argument with another man but it is unknown if they knew each other before the incident. The man's injuries were not life-threatening and he drove himself to the hospital after the incident. Six police cars and an evidence van arrived at the scene but the mall was not evacuated or closed.
In brighter news, the Candy Cane Forest opened up at Turning Stone Resort and Casino in Verona, NY. The display includes a 70-foot gingerbread village and was recently recognized in Forbes Magazine. 40 employees helped create the display and lots of ingredients were used in the process. This includes 1,500 pounds of frosting, 132 pounds of fondant, 6,500 gingerbread pieces, 2,500 Hershey Kisses, and plenty more. 
Tuesday, 12/21/21
On Tuesday, December 21, the state of New York Education Department canceled January Regents testing. This is a decision that many students were thrilled by, whereas others including some teachers and parents were disappointed to hear it. This will be the second year they are canceled, but no decision has been made regarding the June and August Regents exams. 
Another huge announcement for Syracuse locals is that Centro is planning to lower its bus rates. Included in this was the plan to not only lower city bus rates from $2 to $1 but also eliminate free transfers. Seniors, those with disabilities, and children will continue to pay half-priced fares, making them decrease from $1 to 50 cents. Centro, a public transportation company in Onondaga, Oswego, and Cayuga Counties will implement the new pricing structure tentatively on March 7, 2022.
Wednesday, 12/22/21
On Wednesday, December 22, Syracuse University announced they would be delaying the start of the spring semester due to a rise in COVID-19 cases. Classes will start only a few days later on January 24, rather than the original date of January 18. Since December 1, the amount of positive COVID cases at the school has soared with an increase from 34 to 282. In addition to this, the school is also mandating all students and staff get their booster shots before the start of the semester. 
It was also announced that Grammy Award-winning rapper Young Thug would be holding a concert in Syracuse on New Year's Eve. His concert is scheduled to be at the Expo Center at the New York State Fairgrounds. Doors open at 9 p.m. with the concert itself starting only an hour later at 10:00. The event will be hosted by Jay Real and DJ Tonee is set to feature music as well. Tickets start at $75 and are available on TicketMaster. According to event organizers, the rapper will be doing a meet and greet with 10 local pediatric cancer patients before the show. 
Thursday, 12/23/21
On Thursday, December 23, it was announced that the night before Governor Kathy Hochul signed a law that makes using fake COVID vaccination cards against the law in New York State. This could lead to upwards of a year in jail. However, this was signed as a class A misdemeanor, meaning it is not considered a felony and therefore is publishable by up to one year in jail. This law also makes a new class E felony of third-degree computer tampering for "intentional entering, alteration or destruction of computer material regarding COVID-19 vaccine provisions."
In news regarding former Governor Andrew Cuomo, it was announced he will not be facing criminal charges for allegedly touching a female New York State trooper at a racetrack in September 2019. Acting attorney Joyce Smith said in a statement that an investigation made into the incident found the allegations against Cuomo, "credible, deeply troubling, but not criminal under New York law." This is just one of the instances of 11 women included in a report on sexual assault allegations against the former governor.
Friday, 12/24/21
On Friday, December 24, many local businesses released the hours they would be open for Christmas Eve and Christmas Day. These included some of the largest chain businesses like Target, Walmart, and Wegmans. Wegmans was open on Christmas Eve but closed early at 6 p.m. and they were not open on Christmas Day. Target was also open on Christmas Eve, but closed a little early at 8 p.m. They were also closed on Christmas. Like Wegmans, Walmart was open on Christmas Eve until 6 p.m. but was closed on Christmas Day.
A two-car accident occurred around 5:17 p.m. on Interstate 81 causing all northbound lanes near the Adams Street exit to remain closed for about an hour. Police began diverting traffic off of the highway at exit 18 after traffic became gridlocked. The driver of the car that ended up pinned against a guard rail was taken to the hospital with a neck injury while the other driver left with no injuries.
Saturday, 12/25/21
On Saturday, December 25, Christmas Day, not much was published in the news. However, the highest number of COVID-19 cases were reported in Onondaga County since the start of the pandemic. The county broke a record with the highest number of accounted COVID-19 cases in nearly 22 months. The country set a new high with 600 new cases on Saturday, not including the 407 reported the day before.
Sunday, 12/26/21
On Sunday, December 26, it was announced that the county will be distributing free at-home COVID-19 test kits and masks. This is in part due to the 1,700 new COVID cases in the past four days. Numbers show that the Omicron variant is infecting people in the county at the highest rate since the pandemic began.
Staying on the COVID topic, on this day New York State reported breaking the COVID record with nearly 50,000 new cases in a single day on Christmas Eve, while COVID hospitalizations topped 5,000 for the first time since March. This past week the number of New Yorkers hospitalized for COVID surged 28 percent. However, the number of new cases isn't fully accurate due to the number of unreported cases because of at-home tests.