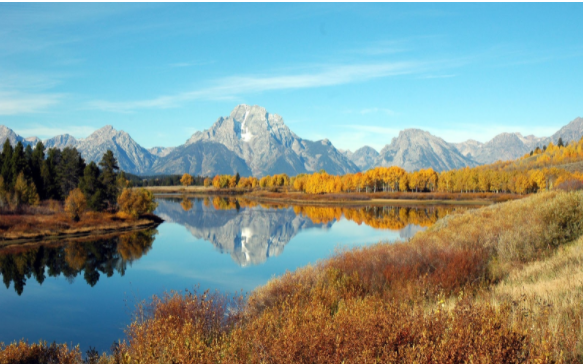 Contributing Writer Malak Aljerari, '23
A seemingly happy couple on a cross-country road trip vlogging their adventures turned into a disaster when Brian Laundrie returned home without his fiancée, Gabby Petito. There has been an abundance of details and speculations emerging about this story due to its nationwide attention, but to completely understand the situation accurately, the full picture must be examined.
At the end of June 2021, Gabby Petito (22) and her fiancé Brian Laundrie (23) head on what they planned to be a four-month cross-country road trip traveling in Petito's live-in van to visit numerous national parks along the west coast. They started at Blue Point, Long Island, where they had been visiting Petito's parents to celebrate her brother's high school graduation. Petito kept regular contact with her family and shared updates on social media, continuously expressing her joy, and most notably, her love for Laundrie.
On August 12, the police in Moab, Utah received a 911 call reporting a "domestic dispute" the caller had seen while driving. The caller described a man slapping and hitting a woman multiple times before they both proceeded to leave together in their van and expressed worry for the woman. When police arrived at the scene, body camera footage shows Gabby Petito distressed and emotional, expressing to officers her issues with anxiety and Obsessive-Compulsive Disorder (OCD). Ultimately, it was determined that the physical altercation followed a heated argument, and Laundrie was assessed to be the victim by police because of information that she bit him and he hit her out of self-defense. This is also due to the fact that Petito was frantic upon police arrival, whereas Laundrie stayed calm and cooperative. Laundrie pleaded with officers to not press charges on anyone because "they are in love and engaged to be married and desperately did not want to see anyone charged with a crime," a report from officer Eric Pratt stated. The police concluded the situation as a mental breakdown and instructed the couple to separate for the night. Since then, the body camera footage has been released and the police that arrived at the scene have received backlash for making light of the situation, seemingly joking about it.
A week later, Petito published her first (and only) YouTube video called, "Van Life: Beginning Our Van Life Journey," which highlighted her and Laundrie's relationship throughout their travels. On August 25, Petito posted her last Instagram post outside The Monarch, a venue in Ogden, Utah, north of Salt Lake City. Two days later, at 6 p.m., a family travel blogger, Jane Bethune, shared on social media an ominous video she believed showed Laundrie and Petito's van around the time of her disappearance in Grand Teton National Park. The vehicle appeared to be identical to the couple's 2012 Ford Transit van. She later submitted the video to the FBI.
On August 29, a woman named Norma Jean Jalovec claimed in a now-viral video that she picked up a hitchhiker in Colter Bay Village, WY, south of Grand Teton National Park. The woman stated, "He approached us telling us he needed a ride to Jackson." They were originally headed to Jackson, Spread Creek in Grand Teton National Park, and they dropped him off at the entrance. After seeing the alarming videos on social media, she later identified the hitchhiker as Laundrie.
On August 30, Petito's mother, Nicole Schmidt, received a text from her daughter stating, "No service in Yosemite." Her mother believed that it wasn't her daughter that sent the text. She was also quite suspicious of the fact that after this text they were not in touch, which as stated before was abnormal for her daughter not to communicate with her.
Two days and more than 2,300 miles later, on September 1, Laundrie arrived in Northport, FL with the van, but without Petito. On September 10, she was reported as missing by her parents and the van was processed for evidence. Laundrie refused to speak with the police or FBI. Five days later, Laundrie was declared a person of interest in the case, and the police chief of Northport pleaded with Laundrie and his family to talk to them, not knowing that Laundrie was not present in his parent's home. Petito's family pleaded with Laundrie's family for helpful information, but they got nothing except a generic comment from Laundrie's sister in an exclusive interview with Good Morning America.
On September 17, the Laundrie family filed a police report claiming Brian Laundrie was missing, stating that the last time they saw him was three days before on September 14, after being informed that he was going to the county park. Following these events, there were dual searches for the missing couple. Authorities searched the 25,000-acre county park, Carlton Reserve, to no avail. Across the country, the mountainous Grand Teton National Park in Wyoming was searched to find clues about Petito's whereabouts.
On September 19, Petito's body was found in Wyoming's Teton National Forest. Coroner Dr. Brent Blue ruled Petito's death a homicide, and on October 12, he specified the death was due to strangulation. The day after her body was found, the FBI executed a search warrant on the Laundries' home. A couple of days later, the FBI announced that the state of Wyoming issued a federal arrest for Laundrie due to "the use of unauthorized devices." Laundrie is suspected of using a debit card and pin for accounts that didn't belong to him around the time of Petito's death. Authorities have not yet been able to explicitly attach Laundrie to Petito's death, but the manhunt continues.
It has now been exactly one month since Gabby Petito's body was found, and the FBI's prime person of interest is Brian Laundrie. Today, this case hit home when a CNY man, Severin Beckwith was raided by the U.S. Marshals at a lodge in a Fontana Village Resort. This came after officials were convinced he was Brian Laundrie due to his similar descriptions of being skinny, pale, having a shaved head, and being bearded, but also due to the fact that he had been on a hiking trip since early September.
Breaking news released by the FBI on October 20 stated that human remains and items belonging to Brain Laundrie were found in a nature reserve in Northport, FL. Special Agent in Charge, Michael McPherson, said, "Earlier today, investigators found what appears to be human remains, along with personal items such as a backpack and notebook belonging to Brian Laundrie." McPherson then went on to say the most significant part of the discovery: "These items were found in an area that up until recently, have been underwater." Currently, the FBI's Tampa Evidence Response Team is on the scene using "all available forensic resources" to process the area and identify the remains. It is estimated the team will be on the scene for several days.
Petito's family has continued to plead with Laundrie to "do the right thing" and turn himself in as the FBI and other authorities continue their search.