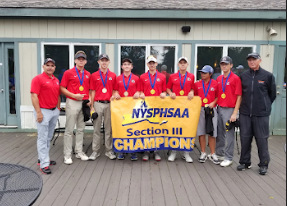 Max Fagelman and Charlie Miller
Staff Writers
Jamesville-DeWitt High School Varsity Boys Golf have their standards set high for both new and returning team members. After finishing last season with a record of 11-5, they are working towards an undefeated season this fall.
"Play well, execute what we've got to do as a team" says senior Max Schulman on how the team plans to stay undefeated. Outside of school, the team goes out to dinner and plays water basketball which strengthens the bond of the team and contributes to their success. Their biggest rivals this season are ESM and Auburn, and they have already defeated both.
Last year the team graduated two players who helped contribute to past success. Although this year they have had to make adjustments without the graduates, the team has continued their success. With the addition of more players and new tactics, the team remains undefeated with a current record of 13-0.
Team co-captain Jakob Ellithorpe said being a captain of the team is a big responsibility and that he enjoys doing it. Being a leader is different from being a regular player because he has the responsibility to look out for teammates and make sure everything at practice goes well. Ellithorpe said the team is laid back but still works hard to achieve their many goals.
Co-captain Max Schulman agrees with Ellithorpe by saying the team plays well. However, if one thing could be different, "it would be to have everyone be a bit more competitive," said Schulman.
Since the team is undefeated this season, senior Turner Pomeroy says, "It's overall a good time." The team capped off their season by winning the Sectional Championship on Oct. 3.