Jamie Boeheim
Assistant Producer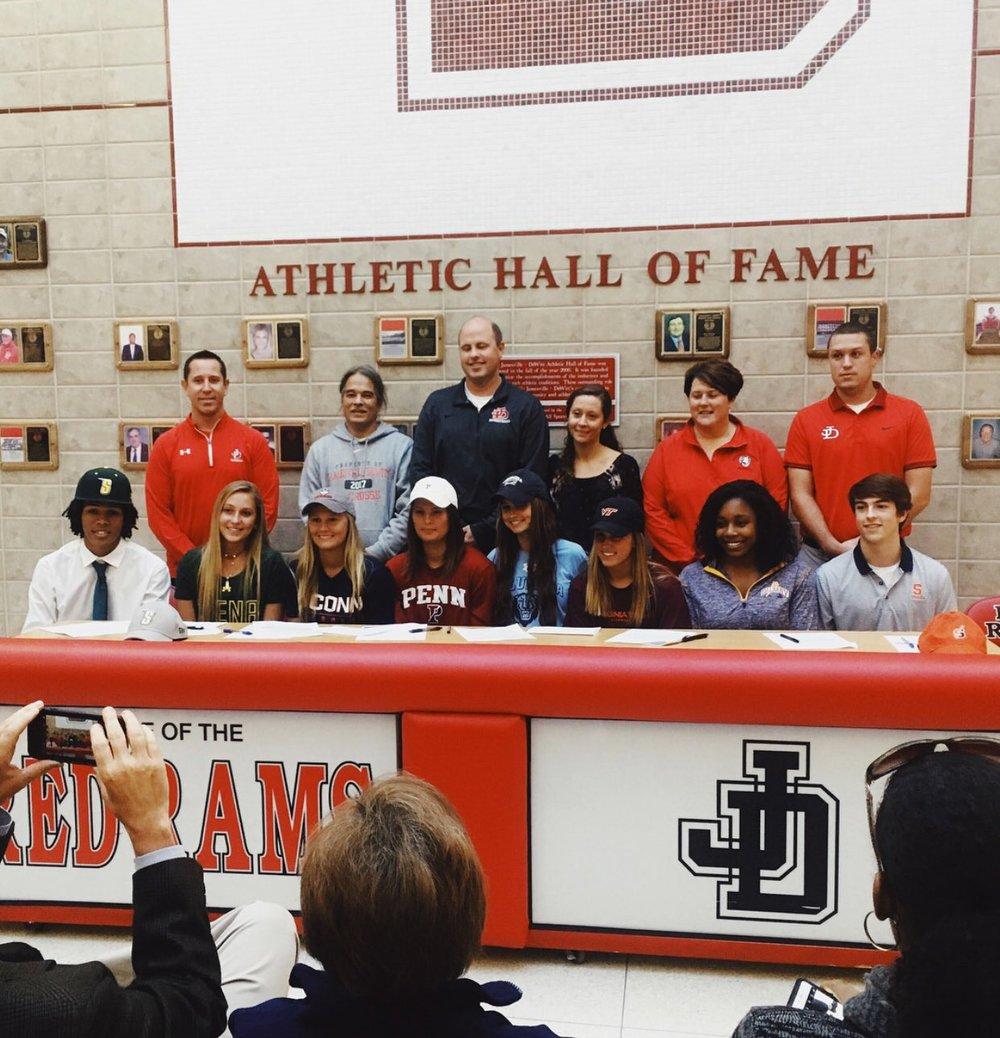 Every year, college-bound students all over the country sign an official document called a National Letter of Intent, which confirms their commitment to play a sport at a Division I or Division II college. This marks the end of the recruiting process and prohibits other colleges from recruiting athletes who have signed. On Wednesday, Nov. 8, eight students at Jamesville-DeWitt High School signed National Letters of Intent. That afternoon, the J-DHS Main Gym foyer was packed with friends, family, teammates, coaches, and news reporters to watch Scott O'Bryan, Jillian Risavi, Ali Durkin, Meg Hair, Katie Lutz, Riley Burns, Griffin Cook, and Alex Payne sign.
The number of signing participants this year is extremely high, with two more signing ceremonies still scheduled. "This is a great group. We've always been blessed with a good amount of signing athletes, but eight is a very solid number," said J-DHS Athletic Director, John Goodson. He also added that the large number of student athletes signing is reflective upon the J-DHS Athletic department because, "it shows the hard work and dedication of our staff and kids. They take their academics seriously and obviously with the opportunities we have here from youth sports (JDYAA) to our club sports, we have a very supportive community academically and athletically."
Throughout the signing ceremony, each participant went up to the podium and gave a speech to give thanks to everyone who helped them throughout the recruiting process. Every student-athlete expressed how much their coaches helped to shape them into the athlete they are today and thanked parents for all their time and support, as well as other people. O'Bryan, committed to Siena College for baseball, started his speech off by giving thanks to God, his parents, sister, and travel/school coaches for keeping him motivated and in love with the game. Durkin, committed to the University of Connecticut for lacrosse, also gave thanks to her family and specifically said, "thanks to my dad for always giving me rides to lacrosse practice, tournaments, or whatever the occasion was." Each student-athlete devoted most of their speech to recognizing the people who supported and guided them the most.
When choosing a college, there are many factors that contribute to finding the best fit. As for Hair, committed to the University of Pennsylvania for basketball, she said she made her decision by considering that "after college, I won't be playing basketball anymore so having the best education was what I was most concerned with." Lutz, committed to Columbia University for lacrosse, agreed with Hair and said her main goal during the recruiting process was to find a school with a good location, a coach that was going to take the program in the right direction, and, most importantly, a quality academic program. Lastly, Risavi, committed to Siena College for lacrosse, said Siena was the best fit for her because of the location, academics, and the lacrosse program.
Each committed student-athlete went through a lengthy, frustrating recruiting process. Payne, committed to the University of Albany for volleyball, said, "my parents and coaches were the biggest help during the recruiting process, (because) they drove me to visits and gave me good advice." Along with parents, having coaches with lots of experience by their side made a huge difference in making the recruiting process less stressful. Cook, committed to Syracuse University for lacrosse, said how his club and school team coaches guided him using their own background knowledge from being recruited in high school. There are many people involved in this process, and each athlete had a long list of names to thank.
Going through the recruiting process is rigorous and leads to one of the biggest decisions of a person's life. "It's a dream that starts in elementary school and middle school playing on the field, and this day is the reality," said Mr. Goodson. Some advice that the committed athletes at J-DHS have for them is to choose a college not based on the name, but on the factors considered most important. "Reach out to family, coaches, and teammates who have a different perspective so that they can give you their opinion on where they best see you," said Hair. Adding to Hair, Lutz said to try not to stress, and consider all your options to make sure you choose a school you'll fit best at. Lastly, O'Bryan said, "to go somewhere that you believe that you can reach your full potential both academically and athletically."
Congratulations to all the student-athletes at J-DHS for all your success and for signing National Letters of Intent. Best of luck!