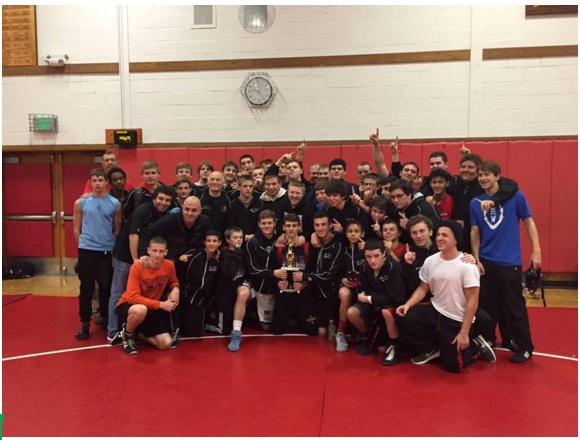 With a 9-1 record, the Jamesville-Dewitt/Christian Brothers Academy/Solvay/Westhill Varsity Wrestling Team seems to have a good hold on their competition and is looking to take down the rest of their opponents as the season continues. After starting the season with a strong 8-0 record, the team ran into a small roadblock when they grappled with sectional powerhouse, the Fulton Red Raiders. They fell to Fulton 28-51.
The team was able to quickly bounce back from their defeat at Fulton. On Jan. 6, the boys took on defending state champion Mexico in a dual meet held in the J-D Auxiliary Gym. They defeated the Tigers 35-33 in a close battle that went down to the wire. Senior Ethan Palmer turned in the best win of the night says senior captain Luke Rowe. "I'm proud we won because we weren't as intimidated as we should've been, we wrestled as hard as we could and didn't put up with any of their intimidation, said Rowe. "It was the best meet I've ever been apart of," said sophomore Jake Wright who thinks they couldn't have done better. Rowe is proud of his team for the win. He is currently 12-8 and is enjoying his senior year so far; "the season is going great, we are having a lot of fun."
The team has a balance of talented underclassmen and experienced seniors that they hope will guide them to a sectional championship. Wright and another underclassmen, freshman Adam Honis, have been impressive, with a combined record of 27-15 so far this season. "We're having an exceptional year," says Honis. He believes the team can compete for a sectional dual championship, which means they would win as a team instead of individually. Honis had a key win against Fulton that spurred the rest of the team to try and win as well. Wright explained that the team was looking forward to playing Fulton and really wanted the win, since the Raiders are one of their rivals. "Adam set the way, (but) it's too bad we didn't wrestle like we expected," says Wright. However, the team seems to be back on a winning track.
The Jamesville-Dewitt/Christian Brothers Academy/Solvay/Westhill team is comprised of about 20 athletes. Junior Mingus Betsey enjoys the combination of schools because he finds that competing with kids from other schools in practice is beneficial. He says it is motivational "because you get to prove yourself as a school but also as a person (to the other players)."It is important to each member of the team to represent themselves as good wrestlers and good teammates to the other players to represent their schools in the best way possible. While the idea may seem foreign, the players are used to it, having been combined with wrestlers from CBA since their modified days. "It's good because we make a ton of friends from all over Syracuse," said Wright.