By Olivia Byrnes and Ali Durkin
Editors of Production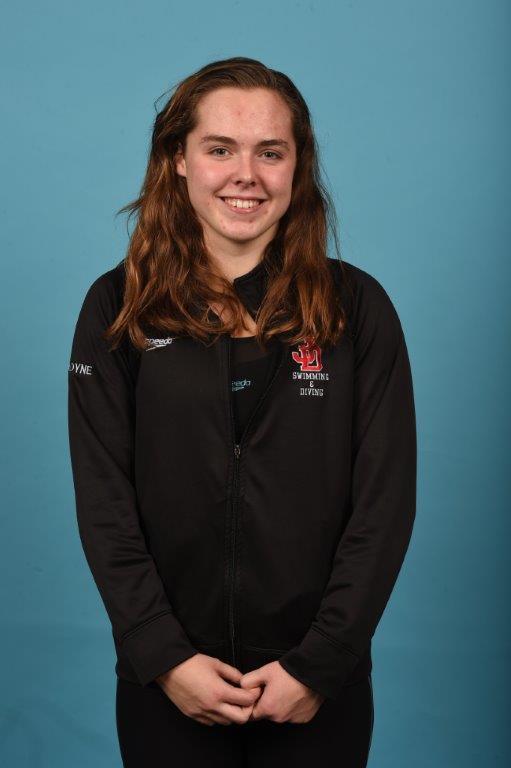 After five successful years on the Jamesville-DeWitt High School Varsity Girls Swim team, senior Alden Coyne will become a Greyhound at Loyola University, a Division I swimming school in Baltimore, Maryland. Over her five years, she has been to the state meet three times and has finished in the top 10 two years in a row for the 50 and 100 yard freestyle.
Coyne's senior year became her most accomplished year yet. After finishing eighth in New York State for both the 100 yard freestyle and 50 yard freestyle, Coyne was Athlete of the Week for NewsChannel 9 on December 3rd. Also, in October of this year, she committed to Loyola. "I really fell in love with the school and campus when I was visiting," said Coyne.
The deciding factor for her decision to go to Loyola University Maryland was that her older sister Kalie, who is currently a sophomore at Loyola, is also on the swim team. "I wanted to swim with my sister for two more years," she said
She started swimming at age 9 for the Syracuse Chargers after her mom encouraged her to swim. Coyne said she wanted to quit the first day she started swimming, but because she wanted to be like her sister, Kalie, she stuck with the sport. "I just fell in love with it, and it came naturally," she said.
Coyne credits her success partially to her coaches throughout the years and her team mates. "I wouldn't be where I am as a swimmer without (Coach Bob Bewley), but also my amazing teammates," she said. "She really pushes me through my bad days and is a really good influence," said junior teammate Marissia Potamianos, "she really deserves this," she said about Coyne's scholarship. Teammates Jamie Boeheim also thinks Coyne is a leader in and out of the pool because "she's always pushing me to get better." Jamesville Dewitt Girls Swimming Coach Bob Bewley told Syracuse.com that "Alden has a very positive blend of being highly competitive and yet super at sportsmanship. She looks forward to proving herself whenever she races. She's an awesome kid."
Coyne's goals for Loyola are to further and make the most out of her education, and to hopefully swim faster to overall help the team reach their goals. Coyne's major is undecided, but is excited for her new journey to start. The J-DHS Girls Swim Team will miss Alden Coyne, but are excited for her and her new oppurtunities.