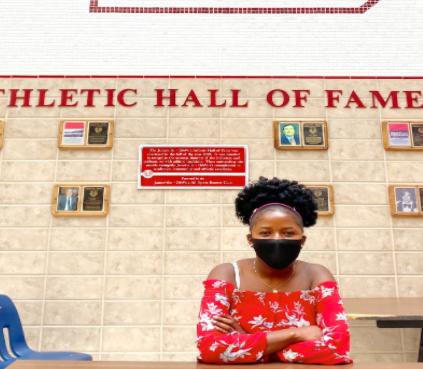 Meet Kabibi Mwepo, a 19 year old Congolese senior at J-DHS. Mwepo has lived in the United States for the past two and a half years. She emigrated to the U.S. because she "needed peace and a good life." She brought a few family members with her, but she had to leave a few friends behind, which was one of the most difficult aspects of leaving. The traditional cuisine from Congo is something she misses. "The journey here was somewhat similar but different," Mwepo said. Something that surprised her, like many others who are new to the country, was the snow, which a lot of people don't like very much.
Mwepo has found strength through her foster parents who have taken her in and Ms. Wisnieski, a beloved teacher here at J-DHS. Her biggest challenge was learning English and trying new foods because she was so accustomed to her life in Congo. Learning English is something that makes the process of living in the U.S. easier. Mwepo's greatest source of joy since coming to the U.S. is school and having parents that take care of her. Through all of this, Mwepo wants to become a flight attendant. Some things she wishes more people knew about her are that she's funny, loves to make jokes, and is very talkative. Advice she'd give someone planning to move here would be: "Don't forget who you are."
The most celebrated holiday in Congo is Independence Day on June 3. Mwepo said the things that Congo is known for globally are probably war unfortunately, but also the music. Mwepo's favorite dish from Congo would be Fufu or Ugali. Her native language is Swahili and she says "jambo" which means "hi"!